-B.E.- Yes, I am aware that it has been almost two weeks since Metallica played at Bonnaroo. However, a review of the greatest metal band ever is not something that can be rushed. It must be allowed to come to fruition only when it is ready. Ok, thats a bunch of crap, but law school is tough. If any of you readers have a problem, I encourage you this time to consult the lyrics of your favorite Keith Urban song.

Anyway, as I have mentioned, Metallica is probably my favorite band and without question was my favorite band that I had never seen live. Needless to say, I had very high expectations. I was very interested to find out what their set list was going to be like. For the n00bs out there, Metallica is a band that has been searching for an identity for the last 20 years. Are they the band with 8-10 minute epics like those in Kill 'em All, Ride the Lightning, Master of Puppets, and ...And Justice For All? Or, are they the pop metal band that we saw in the incredibly successful self-titled Black Album? This identity crisis was perhaps most evident in Load, ReLoad, and Garage Inc.? Not that those albums were terrible, there were some jams, but in general they lacked the "lets rock and see how fast we can play" intensity that Metallica die-hards have come to love.

As Andy and I entered the festival grounds at around 11:15 am Friday (Metallica wasn't supposed to go on until 9:00 pm) Metallica fans were congregated around the gate to the main stage waiting for it to open. I was immediately impressed and had that warm "You're not alone" feeling. Thank God for the Raconteurs, Stephen Marley, and Chris Rock otherwise I wouldn't have been able to make it to 9:00 pm without going crazy. Finally as Chris Rock was finishing his last joke I realized that it was finally going to happen, I was going to see Metallica!
As they have done for years, the show started with a dark stage and the slowly building "Extacy of Gold." If you haven't heard that song its from The Good the Bad and the Ugly and the stunts beginning both of the Jackass movies. Either way I got the chills as they immediately transitioned into "Creeping Death." From there, they moved into "For Whom The Bell Tolls" and "Ride the Lightning." I was shocked with how many people joined James Hetfield in the chorus for both songs.

I knew that Metallica had been playing in some festivals abroad, but going into the show I wondered about their chemistry. It had been a long time since they had played in the states and they were playing with a new bassist in Robert Trujillo. As the show went on I became more and more ashamed of my doubts. Their chemistry was amazing. During "Master of Puppets" and Andy's favorite, "One," Hetfield and Hammett had incredible harmonies, playing very fast, technical solos note for note. It was unbelievable! Hetfield also had a great 80's style solo call-out during "The Memory Remains" when he turned to the mic and yelled "Ahhh mister Hamett".
What really got me was when they played my favorite song "Fade to Black." A lot of metal bands have sick guitar solos that sound pretty clean on CD but when you hear them live the notes blend together. Not Metallica. In "Fade to Black" the Joe Satriani-taught Hammet plays every solo clean and crisp; seeing him tap is really something else.
Now, I can't review a Metallica concert and not talk about Lars. I'm telling you guys, and Andy would agree, he is one of the greatest drummers of our generation. In "No Remorse," off of Kill 'em All, Lars has some of the fastest transitions I have ever seen or heard. Most drummers are content with sitting behind their kits and also behind the scenes. Lars, however, is not. At the end of most songs Lars will stand up, move to the side of his cymbals, and play them relentlessly.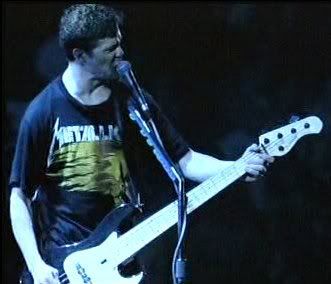 One thing that I have a problem with is guys who wear their band's t-shirt while performing. I just think its tacky and lame. Jason Newsted, the former bassist for Metallica, was one of those guys. I just never felt that he fit in with the band and was very excited to see what Trujillo (who formerly played with Ozzy Osbourne) had to offer. In the end I was very impressed and thought that Trujillo added a whole new level of intensity. He has a great bass stance and an even better creep. Everything he does on stage is intense and he embodies all that is "metal" about Metallica.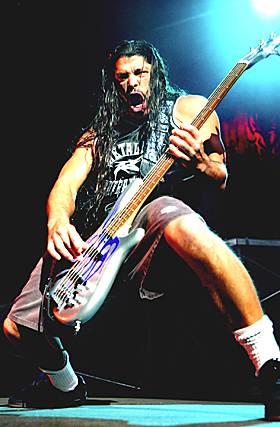 As Andy mentioned in his N00b post, the pyrotechnics were pretty incredible. They also had two encores. The first included fan favorites "Nothing Else Matters", "Sad But True," "One," and the very popular "Enter Sandman" which had its own crazy fireworks that engulfed the entire stage in smoke. They ended with "Last Caress," "So What," and "Seek & Destroy."
I left the What Stage at 11:30ish, tired (we had been on the festival grounds since 11:15am) but also with the feeling that I had just witnessed one of the greatest live performances that I will ever see. Each of Metallica's four members are arguably one of the best at their individual instruments. I was also impressed and glad that they played only one song post-Black Album. Their set list comprised of almost everything off of Kill 'em All, Ride the Lightning, Master of Puppets, and ...And Justice For All. That certainly shows the direction and the identity of the future Metallica. And if Death Magnetic, set to be released in September and produced by Rick Rubin, lives up to its reputation, get ready for the rebirth of the greatest metal band to ever walk the planet.