-A.S. I teased this interview with Spencer Smith, drummer of Panic at the Disco, in the latest issue of College News. Smith was a pleasure to talk to, and even thanked me for the interview at the end. I really enjoyed his insight on their latest album, Pretty. Odd as well as playing abroad.
Andy Shore: How did you guys go from A Fever You Can't Sweat Out to Pretty. Odd?
Spencer Smith: It had been a couple years of touring, and also getting into new music. Kind of shifting from being stuck in what was more current. Over those couple years of touring, we discovered bands that a lot of us grew up to listening from our parents.
Our second album was still a natural progression, but people on the outside weren't going through the same changes. Musically, what we were excited about wasn't the same as when we recorded our first album.
AS: Do you think there is a big difference in the two albums?
SS: We knew the chords and style of music were things that we hadn't done on the first album. At the same time you never want to do what you've done before. It felt natural to us. Some people completely have no idea what we were thinking, and some love it. Some like the new one that didn't like the last one. We're trying to be our own band and not be defined by what bands we were associated with.
AS: Do you think Jon Walker joining the band made a difference in the sound of the two albums?
SS: I do. On the first album it was mostly Ryan and Brendan and me, with Ryan writing most of the lyrics. With Jon, it was nice having everyone feel like we were on the same page. We all wrote as a band and lyrically, it was a little more spread out. It made it more fun for everyone. In the studio as well, everyone was more involved.
AS: How was your experience working at Abbey Road?
SS: It was amazing. We wished we could have worked there a little bit longer. We were able to work on it there, but we didn't record there. It was still amazing to be there. They have the mics, pianos, etc. from the 50s on. We want to be able to go back and record and mix from start to finish there. That's kind of the dream, but who knows if that is a possibility; [Abbey Road] being one of the most well known studios.
How Sgt. Peppers is this drum kit Spencer Smith recently had custom made?
AS: How much did you guys listen to the Beatles while recording Pretty. Odd?
SS: I think obviously for us our favorite band, or who we look up to most, would be the Beatles. Because of the amount of material, the amount of time and the consistency of all the songs on the albums. It's hard to find a song of theirs you don't like. With other bands, you search for the 15 songs from their career you do like. We want people to know every word of every song of ours.
AS: Does the new material change the way you play the old material live?
SS: It's a way to keep it fresh. If we don't I get in some weird zone and start thinking about if you paid your water bills and you forget to go into the chorus.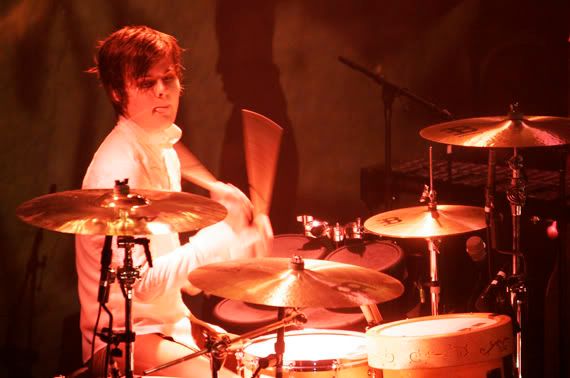 AS: How do international crowds react to your music?
SS: In the UK or Australia, which is one of our favorite places, it's like you're almost in the U.S., but in some weird city nobody knows about.
AS: What was a bigger deal to you, having an album go platinum or one debut at number two on the Billboard Charts?
SS: Selling a million albums, that just sounds like such a big amount.If you stacked a million CDs… it'd look like a lot.
AS: Are there any artists you would like the opportunity to work with?
SS: Most of the people we'd want to work with are dead. I guess we could have Paul McCartney come down to the studio and jam with us for a while.