-A.S. It's award season, and I love no award show more than the Grammy's. The performances are always great, and the acceptance speeches colorful. I'm excited to see Paul McCartney rip it up with Dave Grohl. The Four Tops tribute featuring original members of the band, Jamie Foxx and Ne-Yo should also be awesome. Radiohead is playing with a marching band, which should be interesting.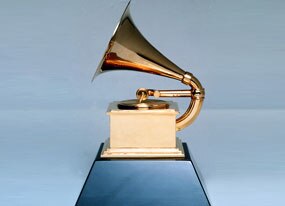 7:00 U2 is opening the Grammy's. There are few artists I hate more than Bono. Why is he standing behind their drummer? Maybe he's trying to make a statement that even though he's a front man, he's nothing without his band.
7:02 Nope. He needed attention, now he's front and center. The biggest turd in the world, indeed.

7:03 Whitney Houston (right) got a standing ovation. I'm not sure if they're cheering because she's out of rehab or because Bobby Brown isn't with her.
7:04 Whitney is either inebriated or unable to read the prompter quickly.
7:05 Best R&B album goes to Jennifer Hudson. I'd feel terrible going after her right now, so I'll just say I would have rather seen it go to Al Green or Raphael Saadiq.
7:07 Good for Jennifer Hudson. She's been through so much, and the former Idol contestant genuinely seems grateful for the award. I hope my boy Danny Gokey is accepting a Grammy in a couple of years.
7:08 The Rock's reciting of "I Kissed A Girl" was almost as terrible as Katy Perry looks. That joke missed its mark.
7:09 The Rock just called Paul McCartney and Dave Grohl (below) the Beatle Fighters. I'd pay to see that band.
7:12 Justin Timberlake is one of the few people around that can take verses from Al Green and I wouldn't be offended. Nice little solo from Keith Urban too. It's starting to look like opening the night with U2 was the Grammy's way of saying it's only going to get better from here.
7:24 What a tame performance of "Lost+" from Jay Z and Chris Martin. Is it too much to hope that Joe Satriani comes out for "Viva La Vida?"
7:27 Carrie Underwood is on now. We're almost a half hour in and there's been one award presented. I'm not complaining, I'd rather see the performances. I hope somewhere, Tony Romo is watching and thinking he picked the wrong blond pop star. She looks great.
7:28 Hell yeah chick guitar player ripping it up!
7:34 Best Country Duo/Group Performance with Vocals is one of the awards that made the cut to air on TV? Zack and I will be seeing Sugarland and their new Grammy at Jazz Fest. At least she mentioned Paul McCartney twice in her acceptance speech.

7:41 I called Coldplay's (above) "Viva La Vida" winning for song of the year, but parlayed it with Joe Satriani accepting the award. I was only half right. Will Champion apologized to Paul McCartney for recycling the Sgt. Pepper's wardrobe. Is it a rule that everyone has to talk about Sir Paul in their acceptance speeches?
7:43 Why do they let Kid Rock perform still? He looks like he's trying to be a Blues Brother. Time to go pee.
7:53 The Rock didn't have a clever name for Taylor Swift and Miley Cyrus. He didn't want to say Jailbait on TV.
7:57 Robert Plant & Allison Krauss won for Pop Collaboration with Vocals. I feel like this won't be the last trip to the stage for these two.

7:59 I've always liked Jennifer Hudson's (left) voice, but not always her songs. Too bad it's a few years too late to sing any of the Motown-y songs from Dreamgirls. Pairing her with the gospel choir appeases the soul child in me.
8:08 Congratulations America. You just witnessed the first time ever in rock and roll history that someone referred to an artist as making girls scream with absolutely no sexual innuendo. Only the promise ring wearing Jonas Brothers could accomplish such a feat.
8:10 Was anyone else offended by the pairing of the Jonas Brothers and Stevie Wonder?
8:14 Blink 182 is announcing their return while announcing Rock Album of the Year. Is this a category they'd be capable of winning with a new album? Coldplay wins, there's hope for Blink 182. Chris Martin agrees. "We're not the hardest of rocking bands. We're kind of limestone rock."
8:21 Craig Ferguson said he was nominated for Best Solo Performance in a Sex Tape along with Screech. Hilarious.
8:23 Who let Katy Perry out of the house dressed like that? She doesn't look good, doesn't sound good and she certainly isn't cut out for the choreographed dancing thing.
8:26 Kanye's won 10 Grammy's? You'd think with how much bitching he does, he's never won. I wonder if it's a blow to him that he's only performing a track he's featured on. They both look like they're wearing outfits made out of tin foil. What is with that do Kanye (below)?
8:29 Well, it only took him one sentence to complain about not winning something. I called Adele winning Best New Artist, but I can't understand a word she's saying. You sound like you're from London (in best Paul Rudd British accent).
8:36 Hey Morgan Freeman, if you were going to name drop someone as your friend, you could have done better than Kenny Chesney. YAWN.
8:40 Record of the Year goes to Robert Plant & Allison Krauss (below) for "Please Read This Letter." Called that too. Glad I got the chance to see them perform live with producer T Bone Burnett.

8:42 It hurts me that Robert Plant said it felt good to give a song he wrote with Jimmy Page a "Nashville touch."
8:48 Man is M.I.A. preggers. Is it in black and white for anybody else? Kanye must be too cool for color now. T.I., Jay Z and Lil Wayne too. Wow. I'd say this was the performance of the night, but I'm not gonna make that call before Paul McCartney and Dave Grohl play.

8:51 I love M.I.A., but you should be way more covered up when you're that far into a pregnancy.

8:54 The moment I've been waiting for. My favorite two men on the planet are sharing a stage right now. Dave Grohl can play the drums better in his sleep than Ringo Starr. This must be the only circumstance in his life when he could feel like a fan boy. This is awesome, just awesome.
9:04 Jack Black presenting Best Male Pop Vocal Performance should have been funny, instead of not at all. John Mayer winning for "Say" is not a surprise. The usually funny John Mayer was also tame for his acceptance speech.
9:06 Pairing LL Cool J and Jay Mohr is almost as awkward as Stevie Wonder and the Jonas Brothers (below with Adele).
9:12 Sugarland's performance was forgettable, but Adele sounds great. Told you so, Zack.
9:18 Gwyneth Paltrow looks fantastic. I enjoyed this Radiohead performace more than I did their set at Lollapalooza, but spicy Margaritas at Blue Agave may have been responsible for that.
9:28 You'd think that somebody that makes as many movies as Samuel L. Jackson could afford to not look homeless. Maybe he's just cool enough to get away with looking like that.
9:29 Are the Grammy's T.I.'s last hurrah before has to go to the slammer? It must be, this is his second time performing. Same for JT. Good performance from these two.
9:38 This Four Tops tribute is incredible. I love Motown so much I took a whole Motown class one summer at IU. Jamie Foxx, Ne-Yo and Smokey Robinson all sound great.
9:46 Speaking of flashbacks to being plastered at IU (ahem, Bon Jovi) Neil Diamond! It is impossible to be in a room full of drunk kids and shout "Sweet Caroline" and not get BAH! BAH! BAHHH! back.
9:54 Guitar Heroes moment! BB King, Buddy Guy, John Mayer and Keith Urban (below). Playing Bo Diddley in honor of the late blues legend.
10:02 Gary Sinise is introducing Lil Wayne, but my first reaction when I saw him was to call him Lieutenant Dan…I watched Forrest Gump this morning.
10:03 Lil Wayne and Robin Thicke sounded fine, but it didn't become outstanding until the Dirty Dozen Brass Band hit this stage.
10:08 Will.i.am and T Pain dressed nicely, but wore their usual funny hats. T Pain lamented about the fact he's only on one of the albums, but at least it's the one that won. Best Rap Album goes to Lil Wayne – Tha Carter III.
10:17 The Blind Boys of Alabama are wearing matching suits. That's adorable.
10:18 Robert Plant & Allison Krauss with producer T Bone Burnett sound like they just won a couple of Grammy's and they wanna take Album of the Year too.
10:22 Nice hair Billy Joe Armstrong.
10:23 Robert Plant & Allison Krauss win Best Album of the Year for Raising Sand. TOLD YOU SO. They didn't go far after their performance. They knew they had it in the bag.
10:26 I'm shocked that they started playing music to shut up Robert Plant. He's ROBERT PLANT.
10:27 I'm glad they gave Stevie Wonder another performance. He deserves better than the Jonas Brothers.
Good fight. Good night.