@ZackTeibloom I couldn't sleep Tuesday night. I spent god knows how long tossing and turning, imagining conversations I'd have with Jack White after narrowly missing having sushi with him*. I wasn't going to let anything stop me from finding him on Wednesday. I put a message out on Facebook and Twitter that if anyone knew where Jack was and didn't text me immediately with cross streets, we would no longer be friends. Once that was settled, I put on my red and white arm bands, a hat that said "keeping vinyl alive," and my favorite record store t and headed downtown.
My phone started blowing up with messages, telling me something was happening at noon at 4th and Colorado, so I ran the mile over there and arrived at 11:30 to see the Third Man Records truck and a line. At that point, I figured Jack would introduce the shop and say a few words. I had no idea that I was about to have an unthinkably perfect  hour. Last year when Third Man had a pop-up show, I left work on my lunch break, drove 25 minutes each way, and budged the entire line to get into the shop before anyone. This time, I wasn't in as much of a rush, so I only budged 4/5ths of the line**.  I made small talk in the line for a few minutes before, wait a minute, is that who I think it is?!
Yes! It was Aziz Ansari, my favorite  comedian, standing near the truck. OK, I'll get out of line for Aziz. I made my way over to him, and the only thing between us was a gigantic dude. He could tell I was trying to get a picture with Aziz, so he tapped my favorite Indian on the shoulder and asked if he could take our picture. Only problem was, this oaf didn't know how to take a picture with an iPhone. "So I just press this button?" "Yup." I don't know what his gigantic hands were tapping at, but it took more tries than when Shifty White Guy took me and Meg's picture for Halloween as his two hits of acid were sinking in ***. He finally gets the picture and ruins my chance for a smooth intro, but I did my best to recover.
I asked Aziz if he ever found a venue for a free show that he'd been tweeting about the day before. He said he'd lined something up at Frank, right next door to where we were standing. I joked that I wanted him to perform at my friend's house, but didn't want another Kanye situation. He laughed. It was definitely closer to a "that's funny" than a pity laugh, but there were hints of pity. I got a more genuine laugh from him when I suggested he perform on top of the truck, as his character Randy, and he even gave one of those that "wait, maybe I could… nah" looks across his face.
As I got caught up in this conversation with Aziz, I started noticing that Third Man staff was setting up an old silver microphone and a chair. Jack's gonna play, isn't he? Aziz took out his camera, and the couple hundred people that had gathered poked their heads around, trying to see what was coming.  Third Man's right-hand man Ben Swain came out in a suit with a skinny tie and rubbed his chin as he said, "Alright, ladies and gentleman, thanks everallofubuhy****  for coming out, I want to introduce to you, with no further ado, Third Man Records recording artist, Jack White." Oh, man. It's on.
We were given five and a half minutes of Jack. Let's break it down second by second. Feel free to watch the video as you read.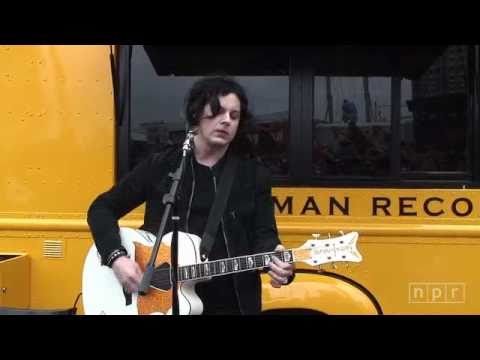 Full video of Jack White performance via NPR
0:16-0:19 Jack pops out of the back of the truck, clutching his white, acoustic guitar (with a portrait of Veronica Lake on the back) with his right hand, while pushing his scraggly, black hair back from each side of his face with his left hand, revealing his thin, long sideburns as he strides up to the mic.
0:20-0:24 Grabbing the microphone, Jack says, "I'm a third man recording artist now, Swain?" drawing laughs from the crowd as he pulls at the guitar cord. A friend pointed out that you can distinctly hear my laugh at 0:24.
0:24-0:29 Jack strums the guitar once, tunes it, strums it again, and he's set.
0:30-0:40 "Alright, it's our maiden voyage, so glad you guys could be here but uh the feedback, don't (strum) We'll figure it out. (Strum) Alright, Texas, uh (strum, pick) everybody feel OK?" (cheers and "Yahhh!")
0:40-0:45 "There's more black edges than faces, but let's do a Texas song." Come on, Jack. We're five feet away from you. How are we not going to take a picture? OK, you're right. Be in the moment. Someone with a real camera will capture this. I put my phone away for once in my life.
0:45-0:55 Buddy Holly's "Not Fade Away." Hell of a choice, right there. Jack strums the opening riff, backing away from the mic while licking his lips.
0:56-1:00 He leans in close to sing the opening line, "I'm gonna tell you how it's gonna be" with a pleading ache in his voice.
1:01-1:04 Oh, doctor. The high pitched pleading transforms into a soft, reassuring coo for "You're gonna make sweet love to me." I no longer have legs.
1:05-1:19 Back into the same pattern, but faster. High pitched pleading for "I'm gonna love you night and day" and a quick "My love is love, not fade away" before following up with a head shake and a softer, gentler "My love is love, not fade away."
1:20-1:30 Booming voice and big aggression for "Yeah, my love is bigger than a Cadillac." I almost want to put an exclamation point after Cadillac. He shakes the hair out of his face and goes back soft for "I try to show you, but you're driving me back" as he backs away to strum and give an "I don't need you, hypothetical girl" look.
1:31-2:02 This is raw, straight forward, no gimmicks, Jack.  Buddy Holly took 2 and a half minutes to play "Not Fade Away." The Grateful Dead stretched it out to nearly ten minutes. Bruce Springsteen took half that much time. The Stones did it in a blistering two minutes.  Jack barreled through "Not Fade Away" in a minute forty that never felt rushed, but he flew through this section, building speed, playing with his eyes closed, so he could explode through the last fifteen seconds.
2:03-2:13 Hold on to your hat. Jack erupts with "Yeah, I'm gonna tell you how it's gonna be!" No choice on the punctuation there. I could have caps locked every word. It was pure exclamation. He built up to this moment with a fury.
2:14-2:24 He slows it back down, getting softer with each "Yeah, my love is love and not fade away," and closing with that Buddy Holly trademark hiccup before tilting his guitar upwards.
2:25-2:35 The crowd erupts as Jack strums and tunes quickly before saying "I'm gonna play one more for you."
2:35-2:53 He tells us Third Man recently signed Seasick Steve to the label and they'll bring him out next.
2:54-2:57 And there it is. "Dead Leaves and the Dirty Ground." Just a month and a half after announcing that The White Stripes would never play again, there it is. Jack backs several feet away from the microphone as he stumbles through the opening strum. He doesn't look comfortable.
2:58-3:02 The crowd recognizes the song and starts to lose it. We thought this would never happen again. Does this mean White Stripes songs are on the table from now on? We can only pray.
3:03-3:11 Jack's curiously missing a few notes in the intro and is holding his guitar like a stranger. It's a little unsettling.
3:12-3:16 After a hair-clearing head shake, he regains his composure and finished the intro with a flourish, stepping up to the mic. Is he thinking about Meg? Is anyone?
3:17-3:22 Jack nestles up to the mic with his eyes closed and sings "Dead Leaves and the Dirty Ground when" and opens his eyes to flash a dead stare for "I know you're not around." Chilling.
3:23-3:32 I look around to see if we're singing along. Mouthing the words seems to be the consensus, so I follow suit. Jack's head goes back down, eyes closed for "Shiny tops and soda pops when I hear your lips make a sound. When I hear your lips make a sound."
3:33-3:45 Now he's looking out at us as he sings, but through us as he locks in that dead inside look. He always manages to look ghostly.
3:46-3:56 Backing away from the mic, he takes 10 seconds to strum that classic riff before leaning in and slowing down.
3:57-4:10 He moves purposefully, rocking back and forth while singing "If you can hear a piano fall, you can hear me coming down the hall." Jack's voice cracks on the end of  "your pretty vo-iice" in a controlled panic. On anyone else, I'd say it was an accident.
4:11-4:24 "Every breath that is in your lungs is a tiny little gift to me." Truer words have never been spoken.
4:25-4:45 Pacing the space behind the microphone, he's giving Veronica Lake a workout as he bangs out the song. Head down, only showing his face to sing "It didn't feel so bad 'til the sun went down." He scowls.
4:45-5:00 With a pained expression, he flips his hair back singing "then I come home, no one to wrap my arms around."
5:00-5:15 Head down, Jack flashes his eyes at us on the phrases he wants to stand out. This time it's "If you're thinking of the Holy Ghost." Always.
5:15-5:25 He steps back and takes the final strums with slow, loving attention. How many more times will he play this live? You have to wonder.
5:25-5:40 Jack's done. He lifts his guitar over his head, bows with a wry smile, mouths thank you, and says "Thanks for coming out, here's Seasick Steve" before a quick hair push, unplugging and disappearing into the truck. And as quickly as he came, he's gone. Until he's needed 40 seconds later…
6:20 Seasick Steve is setting up to play sitting down and groans when he looks at the mic set up for a tall, standing Jack White. You can distinctly hear me laughing at 6:21. From inside the truck, Jack asks "Is that mic too high for you, Steve?"
"No, no. It's all good. No problem" Steve tells him. And it was. I'd rather have five minutes of acoustic Jack than 100 sushi dinners with him. He's said he'll never join another band. The Jay-Z recordings may never see the light of day. Who knows what Jack's gonna do next? With a restless musician like him, you have to figure we'll always have moments like this. As long as I get to see Jack with a guitar in his hands once in a while, I'm a happy man.
11:05 Jack's back on the intercom, saying "You're playing too damn loud, Steve. You're playing too damn loud." Never.
*A friend in from Seattle asked if I wanted to join him for "an awesome dinner," but I had to decline due to work. Hours later, I'm sitting at my desk watching his Twitter stream break my heart with tweets like "Jack White, Alison Mosshart and the Queens of the Stone Age just walked into the restaurant I'm in" and "I just lit Jack White's cigarette" and "I'm literally throwing angry birds at Jack White right now." He wouldn't even tell me where they were. What? I would have been cool. Probably.
**Budging lines isn't crashing, but I've made a real habit of it. The trick is to find people who aren't paying attention in the front 10% of the line. All you have to do is stand by them and look inconspicuous. Eventually, they just accept that you're part of the line. It has worked literally every time.
***Actually, the Shifty White Guy took an incredible amount of pictures of us on acid, but kept saying, "The little people keep disappearing into the corner!" Needless to say most of the pictures were blurry, and of us laughing.
****I listened to his part over and over. It seems like he was trying to say a combination of "everyone" and "all of you."