@supercooleric While the world was literally falling apart for some, I awoke on the first Saturday of South by Southwest 2011 with nothing to do but nurse a mild hangover and contemplate a staggering list of free beer, barbecue and music options for the days ahead. Bathed in warm Texas sunlight, I stretched out in bed and skimmed over Twitter looking for the latest party RSVPs. What I found was a poignant reminder of my insanely great fortune from Carl Newman of the New Pornographers: "These are the days that put everything in perspective. Most of us are, by far, the luckiest people on earth."
Funny how quickly that perspective can be discarded. A few hours later, I'd be complaining about standing in line for free alcohol at a free show.
Defining SXSW: Austin's 25-year-long love-hate relationship
SXSW is a jack-of-all-trades festival with portions dedicated to film, technology, music and smaller subsets dedicated to fashion, concert posters and comedy. There's also an overarching focus on getting as day-drunk as humanly possible.
SXSW is both a free-for-all party and networking/marketing industry event that somehow caters equally to both big-shot businessmen and unwashed college kids. It is possibly the only event where in a 10-day period you can both hear the founder of TOMS Shoes talk about his long-term vision to expand the buy-one-give-one model and watch the lead singer of a punk band punch a woman in the face. It is a city-swallowing event that dumps hundreds of thousands of people into Austin's small downtown area and divides Austinites.Austin has a love-hate relationship with SXSW. Some are eager for the ides of March and the return of an event that clearly cements Austin as the live music capital of the world—Austin allegedly has more live music venues per capita than any other city in the world, and SXSW is, depending on the metrics you use, one of if not the largest music festival in the world. Others say it's changed too much or never liked it to being with.
Many locals refuse to go downtown entirely and fault the festival for inspiring outsiders to move to Austin. For a city with a population that has already outgrown its roadway infrastructure, I suppose it's a fair concern; more people between 25 and 34 moved to Austin over the past few years than any other city in the U.S., many, no doubt, first discovering the city through SXSW.
In 2011, the don't-move-to-Austin campaign felt stronger than ever. From bar banners and marquees to shirts screaming in all caps, "Don't Move Here," the rally cry encouraging visitors to not relocate lived on. (I don't want to beat the ol' gentrification horse to death, but this banner feels particularly silly when brandished by recently opened East Austin bars that cater to well-off white kids.)
These West Coast xenophobes, most of whom are not Austin natives and are the sad, sorry types who post depressing/ignorant rants in the comments sections on newspaper websites, long for a mythical Austin that disappear shortly after their arrival. The same is true of SXSW. It's undeniable that there is room for improvement, but cries of SXSW "jumping the shark" seem idiotic. SXSW has changed, but if you've been coming for less than a decade, those minute changes only feel catastrophic through the hue of rose-colored nostalgia.
There was noticeably thicker cloud of corporate sponsorship lingering in the air this year, but that's ultimately a necessary evil for a festival considered by many as an all-expenses paid vacation from moderation. (On at least one occasion, I found myself basking in the irony of a twenty-something in skinny Levi's denouncing the evils of SX selling out as they sipped a complimentary cocktail of Lipton Brisk Sugar-free Lemonade and Don Julio.) Besides, the music industry has been basically reduced to rubble in the post-iPod age (it's sad news, but if you don't like it go buy a record) and probably would find it fiscally irresponsible to throw a kegger for 5,000+ guests. So if Mountain Dew wants to foot the bill to bring Chromeo and MNDR to town, why the heck not?
I hope you guys wake up with AIDS: In defense of Perez Hilton and Kanye West
Never would I imagine myself defending Kanye or Perez, but let's consider two of SXSW's biggest shows free of any feelings we might have about the pair.
Kanye West's show was labeled by some Twitter-folk as a "PR disaster" for VEVO, the event's sponsor and organizer. A Twitter campaign of #fuckvevo was launched that included such lovely nuggets of constructive criticism as "I hope you guys wake up with AIDS," but considering no one involved would likely have remembered the event's sponsor had things gone smoothly, I doubt the VEVO PR team is losing too much sleep*—but that's another subject entirely. (I could make a list of bands I assumed were decent solely because I had heard their names—and imagined it was from a glowing review from some reputable blog—only to realize seconds into their sets that I had only heard of them from billboards or web ads)
To RSVP for the party, fans were asked to text VEVO; 15,000 people texted in two minutes but only 700 would be granted entry. A confirmation text was sent back but caused confusion: Were those who received a response message guaranteed entry? Were people allowed to bring a +1? VEVO says the strict number on guests was a mandate from Austin Police Department, and while the limited numbers let in may have been a source of outrage for some, the show went off without any rioting.
For those who did get in, the showcase featured some of the best mainstream hip hop artists of the past decade (e.g, Jay-Z, Mos Def, Pusha T of Clipse and Kid Cudi) as well as appearances by Bon Iver's Justin Vernon and John Legend. The show lasted until past 4 a.m., and, like Perez's event, free libations were flowing.
Whether it was confusion on fans' parts or a mishap from VEVO, the RSVP process left some fans steaming. I'm not sure I understand the outrage. It's disappointing to learn you won't get to join the lucky 700 badge-less masses granted entry to what is easily the most talked about ticket of the week, but, personally, I'd happily take a moment of initial disappointment over standing in line all night for a show I'll never get into. These kind of pre-party caps on capacity let people plan accordingly for the evening and limit disappointment. Perez used a similar tactic, though as with the Kayne event, it still didn't solve the problem of long lines.
Perez has been bringing his wildly popular "One Night in Austin" party to SXSW since 2008; he first came to SXSW the year before. Over the years, his party (like his site) has developed from something I wished didn't exist into something I can appreciate without personally partaking in. Perez's party has always been a source of headaches for those stuck in its seemingly never-ending line. Long lines make for grumpy guests, but Perez attendees should know what they're signing up for this point: wait in line for a bit and then get free fruity vodka drinks, some celebrity sightings and dancing.
One common criticism of Perez's party this year was a lack of star power. [See below: Curb your enthusiasm]. But, by dropping the household names, Perez's party—which many SXSW veterans have pointed to as a circling vulture forewarning the impending death of the fest—deserves credit for somewhat sticking to the spirit of the festival (whatever the hell that might actually be—for the sake of simplicity, let's say it's discovering new talent). Like some of the best SXSW showcase lineups, Perez's bill had some old acts you forgot were still around (Liz Phair, Dirty Vegas) and buzz bands on the cusp of breaking it huge (Oh Land, Kids of 88, Zowie).
Even if the lineup failed to meet impossibly high fan expectations, credit goes to Perez for a more organized handling of guests (wristband pickup was allowed in advance, but did not guarantee entry if the venue was at capacity—a fair move and the same policy applied to those with wristbands and badges at official SX showcases). Credit also goes to Perez for picking a proper space for his massive shindig. The ACL Live theater is a sleek and spacious indoor venue that can hold 2,700 people with room to spare. That's a serious upgrade over cramming into an abandoned Safeway in East Austin.
Perez attempted to manage fan expectations, from the RSVP process to the lineup, and if anything, that's what SXSW 2012 needs more of: managed expectations.
Curb your enthusiasm: Crowd and rumor control
Due in no small part to some rowdy crowds (frenzied fans forced their way over a fence at The Strokes at-capacity show at Auditorium Shores and at Beauty Bar for a Death From Above 1979 reunion show; fans nearly breached the fence at Scoot Inn) SXSW officials and Austin police may limit the number of free events next year.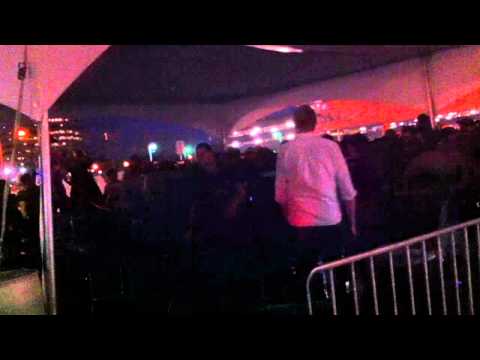 No one was seriously injured in any of these incidents, but it's obviously in the best interest of the festival and the city to not let anyone get hurt during SXSW. Still, pointing the blame at free events seems misguided. The two SXSW riots occurred during official SXSW events and no reports of injuries or out-of-control fans were to be heard from the week's free events, including packed parties at the Fader Fort by Fiat, the PureVolume House and the VEVO Power Station.
What SXSW 2012 needs is better crowd control. There is a stark contrast between the amount of organization you'll find in line at SXSW Film and SXSW Music. Lines are labeled for SXSW Film breaking the masses down into segments: those with badges, those with tickets and those standing by to purchase tickets.
Granted, there are some obvious differences between Film and Music: Less people attend the film portion of the festival, there are fewer film events and there aren't theaters packed next door to each other for blocks on end like there are bars on Sixth Street**. However, there are typically only a handful of music showcases each evening that will be obvious hot tickets, and these shows are normally held at larger venues (e.g., Stubb's, La Zona Rosa, Mohawk, Emo's). Clearly labeling lines (at least at the biggest shows of the night) and a unified approach to handling fans paying cash at the door (some venue's let in a set number of cashiers, others won't let any in as long as there are people with badges in wristbands approaching and others turn them away entirely) would go a long way to avoiding confusion and the consequent frustration that follows.
But more effective queuing will only solve a part of the problem; festival-goer expectations need to be reigned in. This is a matter organizers can try to address, but social media is an uncontrollable space where unfounded rumors become repeated until accepted as fact. When whispers of a surprise Lady Gaga appearance at the Perez Hilton party began making the rounds early in the week, Perez took to Twitter to control expectations, outright saying that Lady Gaga would not be performing. But once a SXSW rumor gets out, it can be impossible to quell.
Such was the case with the rumor (or hoax) that Radiohead or Thom Yorke would be making a SXSW appearance. Rumors started shortly after the release of King of Limbs and continued throughout SXSW. First it was the Zynga party at SXSW Interactive—this rumor actually seemed somewhat plausible since Yorke had played a surprise DJ set with Zynga party performer Flying Lotus a few days earlier in L.A. Later in the week, rumors continued to swirl about a Radiohead performance, partially perpetuated by posters popping up downtown for King of Limbs. Based on an unanimous Twitter rumor, many hopeful Radioheads hustled to Annie's West. Again, nothing.
Big-name headliners have been a fun addition to SXSW over the past decade, but do steal the spotlight from up-and-coming bands who are playing shows for peanuts. Still, big names aren't likely to go away any time soon—not as long as crowds keep showing up for them and the media continues to focus on them.
Cut off: No more free events, no more problems?
That perfect place where the amount of liquor and beer in the bloodstream makes you want to dance nonstop despite the pain in your feet is not an easy place to find—especially when you start the day pounding IPAs for breakfast and follow that with six hours of whatever complimentary concoctions sponsors are pouring.
On Music Day 2 , I found myself in a tribal-themed Sixth Street bar where the bartenders and scantily clad servers went above and beyond the call of duty to ensure the guests were thoroughly entertained and intoxicated. (In case it's somehow damning to the party's host or this venue for me to talk about my lack of responsible consumption, I should say that no one served me while I was clearly inebriated.) After countless rounds of sweet vodka drinks, a request for Shiner at the bar turned into several rounds of Jameson for the group. Plastic glasses filled to the brim with the mind-erasing brown booze were emptied and filled again and again. With ease, we ran up a bill in the neighborhood of $1,000, but, like so many SXSW parties, it was all free.
A few hours passed in what my memory only recalls as a blurred montage of blabbing with strangers, embracing friends and stumbling as troupe a few blocks east for dancing at Beauty Bar. I found myself in that terrible level of intoxication where all the bad parts of your brain are firing full speed, rolling in a wave of quiet terror from which the only escape is sleep.
I was at home spinning in my bed by 10 p.m.
It was that next morning that I asked myself if losing free events entirely would really be that bad for SXSW. Drink prices increase from Austin's remarkably reasonable rate to something closer to the national average during SXSW (Shiner was $5 most places, and Lone Star was between $3 and $4) but drinks are still affordable. Would SXSW really be worse off if every event from 10 a.m. to 4 a.m. the next morning required a wristband or badge and offered no free drinks? Maybe cutting back on free fun would mean losing some of the freeloading drunks and mean less crowds for music lovers. Maybe.
There's no telling what officials will do in an attempt to trim back on free events next year, but I imagine less free events is bad news for sponsors.
Liquor and beer costs for the thousands that attend the larger SXSW parties may be outrageous (I heard one medium-sized east side establishment pulled in more than $20,000 one day on liquor sales) but compared to the cost of buying an ad in a decent magazine or a TV spot, it's a brilliant investment for sponsors. Get the masses to associate your product with a good time and (hopefully) convert them into customers. With that interest in mind, it's hard to imagine SX organizers eliminating too many free events, particularly huge ones like The PureVolume House and The Fader Fort by Fiat, which have become festivals unto themselves.
The future of SXSW: Why SXSW will remain relevant
For better or worse, expect more platinum-selling artists for SXSW 2012 and expect even more spillover of SXSW Music into SXSW Interactive (Interactive 2011 featured Chromeo, Sleigh Bells and TV on the Radio and a showcase from Pitchfork featuring blog buzz acts such as Beach Fossils, No Joy, Gold Panda, Mount Kimbie and Jamie Woon).
The festival will continue to evolve but will maintain it's unique feel—there's really no other festival of its type, size and scope anywhere in the world. Call it corporate if you want, but the amount of talent SXSW amasses in one small city is a thing that can't be fabricated.
SXSW is more than a spring break for grown-ups or a drunken dance with hedonism. It's a high holy week of live music and will remain a relevant venue for musical discovery for years to come. Though the idea of label scouts sitting in the back of smokey clubs witnessing and subsequently signing the next big thing may be becoming a relic of years past, no YouTube clip or Flickr set can replicate the live experience.
Whatever SXSW is, it isn't perfect, but neither is the live music experience. There are dozens of moving parts and the potential for failure is high, but then there's those moments—those magical minutes where you witness something truly incredible. Where you're touched by music in one of those rare real instances when it actually feels like art and not just a soundtrack for drinking. When you see a performance so energetic and inspired you remember why you fell in love with music in the first place.
These are the highs and the lows that come with SXSW. In a world where music plays such a huge role in our lives but spends very little time in the spotlight, SXSW provides a place where music isn't just taken in passively on a morning commute or through headphones on the treadmill. It's an event that everyone experiences differently, but it's one week a year where music is king.
*We disagree about this greatly. Eric thinks the tweets that lead #fuckVEVO to be a trending topic are irrelevant and will be quickly forgotten. I think the whole mess will have a significant effect on VEVO's image from the thousands of rowdy fans who couldn't get in, and the masses who read their tweets. Maybe I just follow Twitter too closely. -Z.T.
**There are exceptions, like the Conan documentary. -Z.T.