@supercooleric SXSW 2011 brought more than 2,000 acts through Austin in March. Here are 100 of our favorite artists from this year's festival (in alphabetical order) and a link to download a sampler containing a song from each of them.
South by SouthBest 2011 Mixtape: Part 1 • Part 2 • Part 3
If your iTunes library is still hungry for more, you can download the full sampler of SXSW 2011 bands containing 1,154 tracks here. Or, if you're looking for something involving less of a commitment of hard drive space, you can listen to SXSW's official internet radio station on Shoutcast here.
1. Active Child
2. Anamanaguchi
3. Astronautalis: Astronautalis is a handsome gentleman with a raspy baritone that can flip from charming chirp to a frightening Tom Waits growl in a second. With an uncanny ability to spontaneously string words together that puts most rappers and writers to shame (his freestyle constructed from audience suggestions will leave you utterly slack-jawed) and a monstrous crowd-capturing charisma, Astronautalis is a giant on the stage. (I also may or may not have a musical man crush on. Don't judge; dude has skills.) I was sad to miss him at SXSW as he's currently touring with a full band, but you shouldn't: He'll undoubtedly be back soon. The man is always on the road and always put his heart and soul into the performance.

4. Baths

5. Beat Connection

6. The Black Angels

7. Blackbird Blackbird

8. The Black Lips: The Black Lips make some sweet rock and roll. They also happen to put on a pretty insane live show. If you missed the guys at SXSW 2011, you missed one of the band's signature penis-played guitar solos.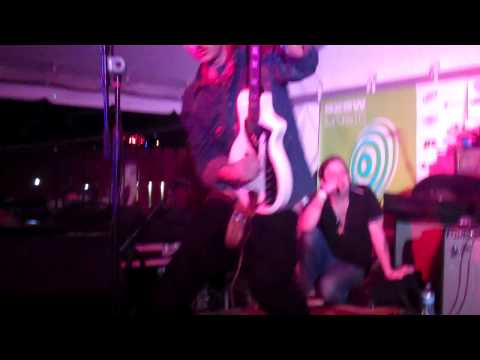 9. Body Language

10. BRAIDS

11. Bright Eyes

12. Caitlin Rose

13. Chain Gang of 1974

14. Chromeo

15. Class Actress

16. Cloud Control

17. The Cool Kids

18. Cults

19. Dale Earnhardt Jr. Jr.: I've debated people about the brilliance/stupidity of their name (I'm on Team Brilliant) but put aside your feelings about their moniker (and, if necessary, the fact that they dress in NASCAR pit crew onesies, adorn their gear with U.S. flags, and have three-foot tall light-up "JR"s on stage with them). There might be nothing but bad news out of Detroit these days, but Dale Earnhardt Jr. Jr. are a ray of indie rock sunshine from Motor City.
20. The Dears

21. Death From Above 1979: I was fortunate enough to get my ass rocked off by DFA 1979 at SXSW 2004 shortly before they broke up. The recently reunited duo (made up of Sebastien Grainger and Jesse F. Keeler, one half of MSTRKRFT) brought their dance-influenced punk rock to a surprise show at SXSW 2011, the first they've played since getting the band back together. With just a bass guitar and a drum set (and the occasional synth), DFA1979 seemed to have secured their place in history as of rock and roll's great one-album bands. With more tour dates on the horizon, fans can only hope there's another album in the works.

22. DeVotchKa

23. Dinosaur Pile Up
24. Diplomats of Solid Sound

25. Dum Dum Girls

26. Eli Paperboy Reed

27. Esben and the Witch

28. Fierce Creatures

29. Fitz and the Tantrums: One of my favorite bands from SXSW 2010 returned to Austin with an even more powerful performance. The Motown-inspired organ and horns of Fitz and the Tantrums obliterates crowds live. Forget the four-on-the-floor dance beats, if you want to get the masses moving, all you need is a little soul. Fitz and the Tantrums are one of those rare bands who are exceptional on record and explosive on the stage. They also gave one of my absolute favorite live performances of SXSW 2011.

30. Foster the People

31. French Horn Rebellion

32. Friendly Fires

33. Geographer: "Kites." It's a crazy little earworm: Listen to it. You're welcome.
34. Givers

35. Glasser

36. Gold Panda

37. Grouplove

38. Horse Thief

39. Houses

40. Hunx and His Punx

41. James Blake: Dubstep darling James Blake brought a full band to SXSW for one of the first live shows he's done. With a soulful voice bringing to mind Bon Iver and sparse electronic arrangements punctuated with spaces of silence and bigger-than-life-bass, James Blake has quickly made a name for himself, being heralded by many as the future of electronic music; it's evident from his hypnotizing live performance at SXSW that he's the real deal. (Recommended If You Like: Having Pitchfork set as your browser's homepage)

42. Jamie Woon

43. JEFF the Brotherhood: Jake Orrall has played a guitar solo with his crotch inches from my face twice: once at an empty bar in Denton and once in a photo pit at Fun Fun Fun Fest. The brothers (neither of whom are named Jeff) are alumni of defunct former SXSW act Be Your Own Pet and have continued to tour for a couple years now and are starting to get the attention they deserve.

44. Jonquil

45. Joy Formidable

46. Kids of 88

47. The Knocks

48. The Knux

49. Kopecky Family Band

50. Kurt Vile

51. La Sera

52. Little Dragon

53. Low: Slowcore pioneers (fans typically hate the genre label, but screw 'em) Low played material from their upcoming album, C'mon, during SXSW. As expected, the band's signature haunting, droning sound was intact, but to my surprise, Low live is a guitar-heavy experience—more head banging than heart breaking or wrist slitting. Loud waves of distortion were unexpected, but those crucial male-female harmonies were even more splendid than I could have hoped for. (RIYL: Radiohead)

54. Menomena

55. Miami Horror

56. Miniature Tigers: Why are people still sleeping on Miniature Tigers? Despite the face that their 2010 album Fortress is a gorgeous, fun record and that that band has had solid online buzz, they've yet to really break through. Fix it now. Listen to Miniature Tigers, love them and tell your friends. (RIYL: Fanfarlo, Freelance Whales)

57. Mister Heavenly

58. MNDR: MNDR canceled shows at SXSW due to illness, but having seen her last year at The Music Gym with a crowd of 10 or so day-drunk onlookers, I can only imagine how her stage presence has developed. Hopefully she'll be back in Austin for SXSW 2012—she's come along way since the infectious "C.L.U.B."

59. Mount Kimbie

60. The Naked and Famous

61. No Joy

62. Now, Now Every Children

63. O'Death: Somehow finely walking the line between bluegrass, folk and punk rock with a guitar, bass, banjo, fiddle and a drum set equipped with a bucket and chains, O'Death's take on Gothic Americana comes off like a darker, more rumpus Iron and Wine mixed with the machismo energy of Man Man's drunken barrel-chested gypsy barroom sing-alongs. Needless to say it makes for one hell of a show.

64. OFF!

65. Oh Land: Oh Land, stage name of enchanting Danish performer Nanna Øland Fabricius, returned to SXSW this year, hot on the heals of her self-titled sophomore full-length release. Oh Land landed a record deal from Epic following her first performance at the festival in 2010, and seeing her live this year it's clear why the majors approached her. With a luscious voice and hooks that put the sorry lot of Top 40 elite to shame, Oh Land is a pop powerhouse whose star is on the rise. (RIYL: Robyn, Florence and the Machine, Little Boots)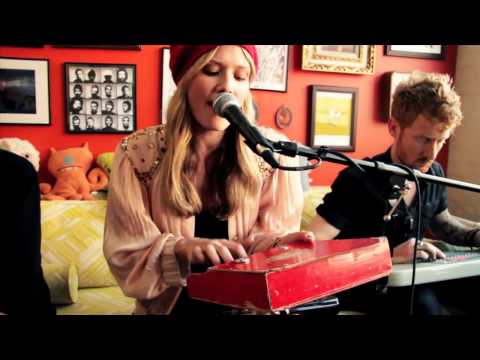 66. Okkervil River

67. The Pains of Being Pure at Heart

68. Penguin Prison: Singer, producer and remixer Chris Glover (Penguin Prison) packs a high-pitched smooth voice that hints of Michael Jackson and Prince and crafts intelligent synth-driven dance tunes. Penguin Prison is currently touring in Europe with Jamiroquai, an apt match for the band. Expect big things from Glover later this year, as a full-length debut is expected this summer. (RIYL: Hot Chip, LCD Soundsystem)

69. Phantogram

70. Prince Rama: I'm a huge fan of Animal Collective's records, but the first time I saw the band live I was thoroughly disappointed. (Two others I was with claimed it was one of the best live shows they had ever seen and they swear weren't under the influence of drugs, so it could just be a personal thing). Based off of that experience, I had zero interest in seeing Animal Collective protégés Prime Rama. Fortunately, I was dragged along to one of their shows. They were down a member during the set I saw, but still delivered one of the most wonderfully weird performances of the week.

71. Pulled Apart By Horses: It was just after breakfast one morning when I saw a somewhat inebriated Pulled Apart By Horses (who in their live performance sounded so much like the criminally underrated Welsh band Mclusky that I had to pull out my phone to make sure there wasn't a connection) put on the most intense rock show I witnessed during SXSW 2011. The typical hardcore staples were there—jumping from the speakers, climbing onto the bar, playing from the crowd—but then we entered an uncharted frontier or rock show theatrics. Playing guitar while riding on a fan's shoulders? Never seen that before. Lead singer wrestling with a fan, vomiting in the crowd and then getting back on stage to finish the set? Yes, it happened and it was fucking brilliant.

72. Rural Alberta Advantage

73. Sea of Bees

74. Small Black

75. Smith Westerns

76. Snowden

77. Starfucker

78. Summer Camp

79. Suuns
80. T-Bird and the Breaks
81. Talking to Turtles

82. Ted Leo

83. Tennis

84. Thao Nguyen

85. This is the Kit

86. Toro y Moi

87. Totally Enormous Extinct Dinosaurs

88. tUnE-yArDs: I was initially slow to warm to tUnE-yArDs' bizarre but beautiful experimental, lo-fi debut, BiRd-BrAiNs, but when I did, I found it supremely rewarding—there's really nothing else like it. With ukulele in tow, Merrill Garbus played songs from her upcoming album, w h o k I l l, to a seated crowd at the French Legation Museum in East Austin. (RIYL: A weird, minimal mix of Animal Collective and Sleigh Bells)

89. TV on The Radio

90. Twin Shadow

91. Ty Segall

92. Ume

93. The Vaccines: 2011's Arctic Monkeys (i.e., a band that has just recently formed but immediately garnered unreasonable amount of music blog buzz), The Vaccines are the latest British import that everyone was talking about during SXSW and like the Arctic Monkeys before them, their debut is solid as hell. (RIYL: The Jesus and Mary Chain)

94. The Vaudeville Smash

95. Veronica Falls

96. White Arrows

97. White Denim
98. Wye Oak

99. Young the Giant

100. Yuck