@ZackTeibloom Most bands will lighten up their set to make it more accessible for a festival crowd. The Dap Kings shortened their Sharon Jones intro to get right down to business. Big Boi kept the set list tight. Ween isn't most bands. They came out dark, stayed grotesque, and gave a Ween show for Ween Nation, with only a Bowie cover and a confetti-shower finale showing any willingness to pander to the rest of the festival. Most stuck right with the show and were rewarded for it, though I must say, it was a poorly constructed set list.
Ween was the only show to go on once the brutally hot Houston sun had gone down, and they seemed determined to make darkness a theme. Starting off with "Buckingham Green," and its heavy guitars before the first line, "A child without an eye…" it felt almost metal as green lights and smoke machines set the background for face-melting Dean Ween solos. "Spinal Meningitis" turned the show grotesque with the vivid descriptions of a child's wailing as they undergo treatment for spinal meningitis as Gene Ween made a droopy, scared face. It was clearly time to lighten the mood with "Bananas and Blow." Nothing like being on a cabana, doing nothing but eating bananas and doing lines to get your mind off of Spinal Meningitis, am I right?
The set-list meandered off into the awful, delirious "Happy Colored Marbles" before getting back into the rock with set staple "Transdermal Celebration." The night was a real showcase for the solo-ing of Dean, with almost every song breaking down into a minute of him solo-ing, often turning his back to the crowd, and then hitting us with a big punch of guitars as 70-pounds-skinnier-than-last-time-we-saw-him Gene, made goofy faces. Then it was back to goofy Ween with "Waving my Dick in the Wind," picking up speed as it went, with Gene jumping on the drums as Claude solo'd before the depressing "Mister, Will You Please Help my Pony?" If you're keeping track at home, the only headliner of the night has now played a song about a dying boy, a sick pony, another dying boy, a coke addict and we're not even at the sad take on "Mutilated Lips." It was a dark set, to say the least.
"Dr. Rock" brought the fists out, but "Birthday Boy" was a rare sweet vibe that they only brought back later, albeit it tongue in cheek, with "Your Party." The major highlight for those that don't know the band (OK, for all of us) was the cover of David Bowie's "Let's Dance." Gene did a great job sounding like Bowie, sashaying around the stage, pointing out at no one in particular and just having a blast with it. Unfortunately, they followed it up with some of the worst songs on their catalog, like "Ice Castles," the nadir of White Pepper, "Slow Down Boy," the weak link on the Friends EP and "Learning to Live," one of the worst on La Cucaracha. Thankfully, they packed in an always delightful The Mollusk, which I managed to get a couple minutes of before my video camera died: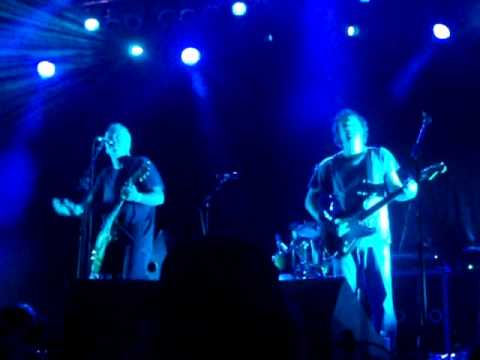 Grading Ween
Performance: 18/20 Deaner was the star, flying into long, stunning solos whenever possible, as Gene held down the fort with his standard goofy, creepy schtick with a multitude of voices and modes. It was everything you come to expect from a Ween show.
Crowd Engagement: 9/10 Strong crowd for a festival, they stayed with it all the way through a tough set list, knew the spots to sing, when to yell, and waited out a horrendous Limb show and an out of place Beirut show to be there.
Ambiance: 3/5 The sun had finally gone down, which was a godsend, but the guys controlling the water shooters that felt so good in the heat, were now drenching us for no good reason. Also, some real people around us were trying to get ahead of us and didn't understand why that wasn't cool.
Set List: 6/10 I could have written a better set-list in my sleep. Not a good way to introduce new people to the band, but even if you weren't going to do that, why only one song off of God Ween Satan? So many questions, I won't have an answer for.
Misc: 5/5 Above all, it was Ween. They sounded awesome, I ended my night in a confetti bath, they played a ton of songs I really do love and even though it wasn't my favorite show of the day (I think Sharon Jones was slightly better than Big Boi) I was thrilled to be there.
Total: 41/50 but it was an 8.9, so I'm calling it an 8.9
Here's the ending of "Roses are Free" with the confetti: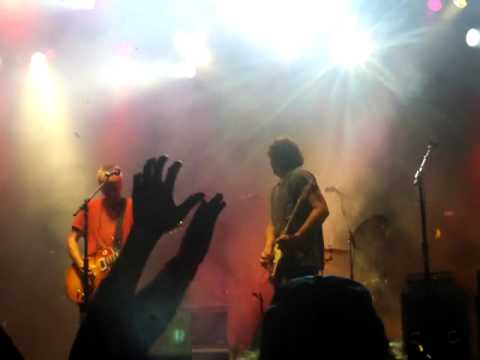 Setlist:
Buckingham Green, Spinal Meningitis, Transdermal Celebration, Bananas and Blow, Happy Colored Marbles, Waving my Dick in the Wind, Mister Would You Please Help my Pony?, Mutilated Lips, Learnin' to Live, Let's Dance, Dr. Rock, Birthday Boy, the Mollusk, Ice Castles, Final Alarm, Awesome Sound, Your Party, Slow Down Boy, Roses Are Free