@ZackTeibloom Most Weezer fans feared a show like this would never happen again. When you spend your formative years adoring a band as they go from a breakout smash, through their wildly under-appreciated follow-up album, and then watch them get further and further away from the band you loved with each subsequent album, you worry you'll never get the band you started with. You worry that they're  now something else entirely after 4.5 albums you rarely listen to, if you even managed to pick them up at all. Then this show happened and all hope was returned.
It's still the Weez we know and love. This tour is for all the Weezer fans who yearn for the glory days of the Blue Album and Pinkerton, but we didn't know what they'd do for a festival crowd. Would they play one of the two albums in order, like they have been the rest of the tour? Would they just play a normal set, without digging back into their past as much? It was a legit concern. No worries to be had. They delivered a dream set-list, packed with almost the entire Blue Album and just the right amount of everything else. In short, it was everything a Weezer fan could hope for.
Rivers came out with his blue hoodie pulled tight over his head as he went right for the big guns of "Undone (The Sweater Song)" and immediately you just knew you were in for a treat. He held his acoustic guitar high above his head and said "A lot of good looking, sweaty people in the crowd tonight!" We knew he was full of it and we looked like a hot mess, but we took it. From there, he put on a rain hat and led the crowd for a strong sing-a-long on "Perfect Situation," off their mostly forgettable fifth album Make Believe. The chorus is all "Ohhh-Ohh's!" and Weez led us through them with the spotlight on us, going from low to high on "Ohhh-OHHH!" extremely effectively. He took off the hat and sweatshirt to reveal a short sleeved plaid collared shirt and went back into the Blue album for "Say it Ain't So," which never gets old.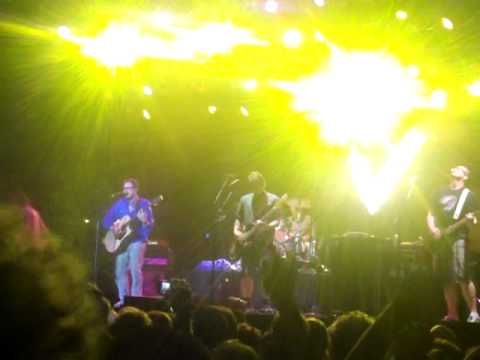 "El Scorcho" was the first of two offerings from Pinkerton, both of which were met with revered sing-a-longs and -W- hand gestures from Weezer diehards as Rivers led the way on the acoustic and still managed to get it rowdy. Unfortunately, they chose to follow it up with a cover of Radiohead's "Paranoid Android," as hundreds of fans took out lighters. I don't know which was more ill advised. You never truly appreciate Thom's gifts until you see someone else try to pull it off. It's just not in Rivers' skill set, and the solo was sorely missing a Mr. Jonny Greenwood. We had a strong "Dope Nose," before this gem: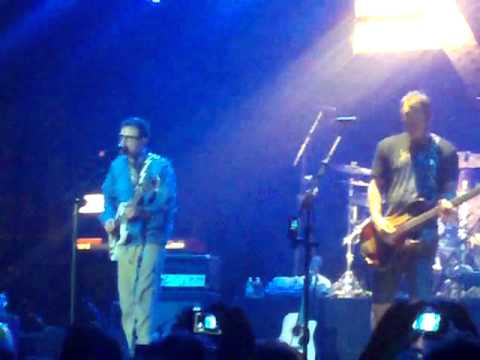 "Island in the Sun" was introduced by Rivers asking us if it was raining, then telling us he felt like he was on an island and singing some made-up lines about how he wished it was raining. I loved the touch of having him play alone for the first minute or two. Rivers asked if there were any old Weezer fans in the crowd (and there certainly were) before going into Blue album b-side "Suzanne" and then a pantheon Weezer deep-cut, "Across the Sea" from Pinkerton.
The last two were stand still, ear-to-ear smiling sing-a-longs, before speeding up into "Surfwax America" as Rivers threw a giant ceramic Mushroom over the drum kit, after carrying it around for a song or two. He was hanging around the drums during the end of Surfwax, before coming back for "In The Garage" and a hard-rocking "Hashpipe," probably the most show-y hard rock of the night. There was a big lull for "The World has Turned and Left me Here," which is when I checked my phone just in time to see the Heat win, but had my mood quickly brighten again as they went into "Pork and Beans" with Rivers taking solos from all ends of the stage, climbing into the crowd as much as security would allow him. Water bottles were thrown into the crowd and we spun them around furiously as "Only in Dreams" approached 10 minutes, as we wound toward an encore that I'll tease after we grade them.
Grading Weezer:
Performance: 19/20 Rivers proved to be the front man of the festival and was impossible to keep your eyes off of. From the moment he came out with his hoodie pulled tight over his head for "Undone (The Sweater Song)" until his flying leaps as fireworks erupted behind him for "Buddy Holly," he gave us the performance every Weezer fan thought was "Only in Dreams" at this point in their career. He was a man of the people, demanding "agua" for us as he hosed us down, climbing into the crowd for solos, taking the stage all by himself for the start of "Island in the Sun" and making up a song about how he wished it was raining before instructing us to just say "hip, hip." It sure was.
Crowd Engagement: 10/10 After getting thoroughly hyped up by Cut Copy, we were so ready for that big -W- to light up and we ate up every second of it. When security threw dozens upon dozens of water bottles into the crowd for "Only in Dreams," we deliriously swung them above our heads, giddily spraying everyone around us. We were fully engaged, as the sing-a-longs never stopped, through the raucous Wee-zer! chants for a very much deserved encore.
Set List: 9.5/10 Besides Rivers, the set list was the star of the show. 8 songs off of the Blue Album, (9 if you count b-side "Suzanne") two excellent picks off of Pinkerton, "El Scorcho" and "Across the Sea" and a smattering of the better Weezer Singles from the last 5 albums was just what an old Weezer fan would have hand picked for our festival headliner. The only knock at all is "The World Has Turned and Left me Here." I would have preferred "Holiday" if you really need an 8th Blue Album song, but I have no other complaints. Oh, I just remembered. They've foolishly been covering Radiohead's "Paranoid Android" and it's way out of their skill set. Rivers can't match Thom's falsetto and Jonny Greenwood isn't coming through those doors for the solo. Please, let's stop trying this one. Other than that, flawless.
Banter: 4/5 Rivers knew how to woo us, even if he had to lie and tell us we looked good and sweaty, but we appreciated it anyway. He had a couple pedal issues early on that lost him a bit of momentum and he had to have a conversation with the sound guy about it, but we was quick on his feet (even when playing soccer by himself) and had control of us from all over the stage, where he loved to roam.
Misc: 5/5 A true throwback night and one for the ages.
Now, here's the finale of "Buddy Holly" as fireworks erupt behind Weezer with Rivers leaping around the stage and finishing with a flurry on the drums. A perfect way to wrap up a fantastic festival that made all those early days of fandom so worth it. Thank you, Rivers.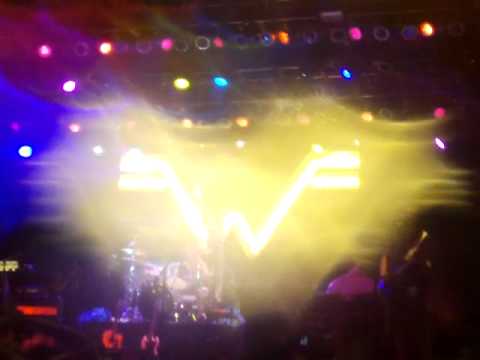 9.5/10