@ZackTeibloom Before Free Press Summer Fest, I predicted what my top 10 would be. Now that it's over and I've had a couple days to recover, I've got a list of the actual top 10 and real videos from the fest to back up my opinion. I thought I knew myself well, but high school me dominated post-college me, as Weezer blew Free Press Summer Fest away, while Ween was more of an acquired taste. Even Sharon Jones, Yeasayer and Big Boi slid ahead of pre-fest #1 Ween.
The rest were pretty much what I thought, but a little bit discombobulated. I never got to see Guitar Wolf, due to them being on the complete opposite end of the lengthwise festival and the need for pizza, but I saw the rest of my top ten and was thoroughly impressed with everyone. OK, not everyone. Limb was a train wreck, and Beirut wasn't meant for that time slot, but the rest was a treat.
As always, we're counting down from 10, with the previous ranking in parenthesis.
10. Ani DiFranco's Dick (Not listed)
Of course I was intrigued by the name. Who wouldn't be? But what's in a band name? I missed a couple songs of an incredible break-out Fleet Foxes show at Pitchfork a few years ago, because I wanted to check out a band with "fuck" in the title. Huge mistake. Checking out Ani DiFranco's Dick was no mistake. The punk band had made a long journey from Oakland, was admittedly hungover and playing in 100 degree heat in the early afternoon on a small stage. The lead singer was a sweetheart and they have less than 25 Twitter followers. How could you not root for them? Their songs were clever, fast, fun and I loved the "hipster boyfriend" track I posted here. 7.5/10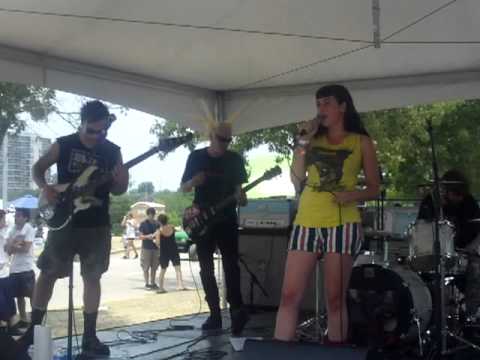 9. Little Lo (8)
As much as I love Black Joe Lewis, Caitlin and I hustled over to Little Lo and caught the end of their first song, and the rest of the set, from the side of the stage. We got to see a great cross section of this wonderfully talented band. It's the only band where I didn't know where to focus my camera, since they're all such captivating performances. Caitlin and I saw them on our first date 8 months ago, have seen them at least half a dozen times since then, and love watching them get better with each show. Hopefully their festival appearances only get bigger from here on out. 8.5/10
8. Zeale (9)
Zeale does everything you want a hip-hop artist to do. He picks songs you already love to sample and sing over, he's political, smart and a brilliant free-stylist. He even made fun of my bright neon shirt so quickly, everyone was looking at me before I realized what he'd said. The highlight of his set, was this collaboration with Austin's The Black and White Years. If only they'd been there to combine it with him. Another Austin artist I have a feeling will blow up in the next couple years. 8.8/10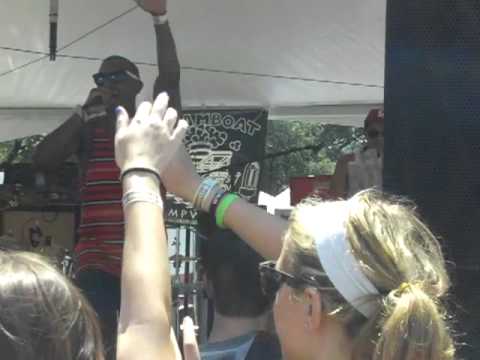 7. Cut Copy (7)
I knew I loved their latest album, Zonoscope, and figured it would be a fun show, but had no idea that they'd be able to make the crowd jump like no other act could come close to re-creating. It was wild. Even if they didn't have the most well-known catalog of the festival, they had the most rabid crowd and had the entire hill jumping. Quite a feat. The Australian 4-piece was thrilled with the reaction, saying "Will you guys come to all our shows. You guys are awesome!" It was a bit of a cheap move to dedicate a song to Hakeem Olajuwon, just because we were in Houston, but they knew how to make it work. I'd see them again in a heartbeat. 9.0/10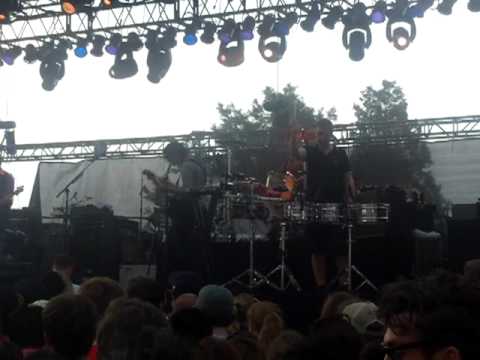 6. Big Boi (2)
On the other hand, Big Boi boasts a world-class catalog of songs, but delivers just what you expect. We got "Rosa Parks," "B.O.B." "So Fresh, So Clean," "Ms. Jackson," and "I Like the Way You Move," but especially on that last song, it was a bit troubling at times. He brought a bunch of underage girls on stage to dance with him, and not understanding their own sexuality, but having seen enough rap videos that they knew what they "should" do, it was incredibly awkward. I wrote "just wrong" in my notes. I tried not to let it distract me from some great rap-alongs, and Big Boi is smooth, fast, effective and a very strong performer, but it didn't quite all come together at times. Still, it's Outkast songs and his Sir Lucious Left Foot tracks were strong as well. 9.1/10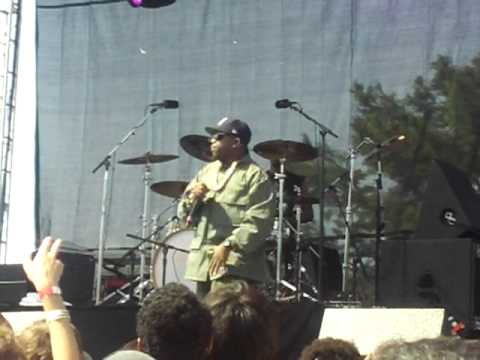 5. Ween (1)
Most bands will lighten up their set to make it more accessible for a festival crowd. The Dap Kings shortened their Sharon Jones intro to get right down to business. Big Boi kept the set list tight. Ween isn't most bands. They came out dark, stayed grotesque, and gave a Ween show for Ween Nation, with only a Bowie cover and a confetti-shower finale showing any willingness to pander to the rest of the festival. Most stuck right with the show and were rewarded for it, though I must say, it was a poorly constructed set list… Read the full review here…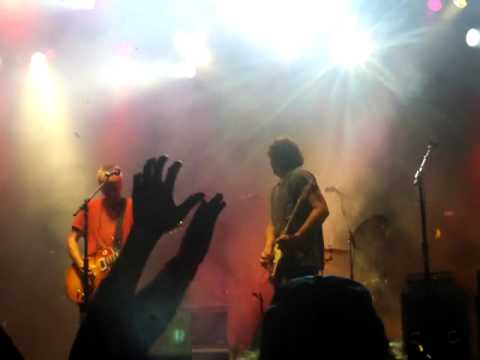 4. Chromeo (6)
Finally, I got to see a full Chromeo show! They were the dance party I hoped for, and more. The rain came right before their set, cooling us off, and they heated us right back up. Dave 1 (older brother of A-Trak) is a commanding front-man, strutting the stage with his cool shades and swag, while P-Thugg is a fun machine in his custom Bulls jersey, singing "let me hear you scream!" into the talk box with a silly grin on his face. They do a ton for just having two of them, and share drum duties on a make-shift kit between them. Unfortunately, there was a fun destroyer building a beach ball grave yard in front of us, but I'll tell you more about that in my non-music recap. Ohh-eee-ohh, Chromeo! 9.2/10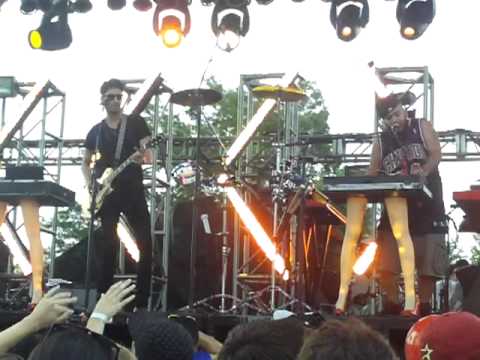 3. Sharon Jones and the Dap Kings (4)
Oh, she's just fabulous. Her hips and shoulders have a mind of their own and her voice was hands down the best of the weekend. She shook her stuff with frills all down her dress, and the Dap Kings were dynamite, with three horn players, a bass and two guitarists, a congo player, a drummer and two tambourine shaking back-up singers. This long intro video gives you a taste of the class, style and substance of this dream band. Bravo. 9.3/10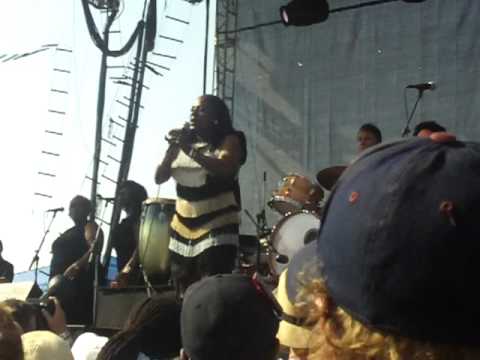 2. Yeasayer (3)
Just like at Lollapalooza, Yeasayer got stuck with the hottest possible set time of the festival. They started with "Madder Red," as Ira had countless nip slips in his blue tank top before drooping a towel over his head to protect himself. "It's fucking too hot to be doing this right now," Chris said. "I'm chilly." Ira joked. It was over 100 degrees at this point, but at no point would you consider moving as they pounded through "One" Wait for the Summer", "2080," and more before a delightful "Ambling Alp." They asked for a pool to get into to watch the Mavs game afterwards. We all needed to cool off after that scorching set. 9.3/10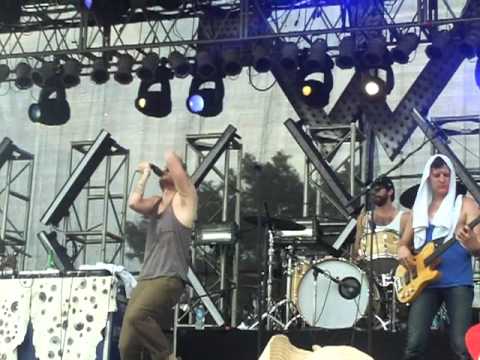 1. Weezer (5)
There's still a Weezer poster in the bedroom of my dad's house. I won't be taking it down anytime soon. Most Weezer fans feared a show like this would never happen again. When you spend your formative years adoring a band as they go from a breakout smash, through their wildly under-appreciated follow-up album, and then watch them get further and further away from the band you loved with each subsequent album, you worry you'll never get the band you started with. You worry that they're  now something else entirely after 4.5 albums you rarely listen to, if you even managed to pick them up at all. Then this show happened and all hope was returned…Full review here.