@ZackTeibloom Caitlin drives us down to San Antonio, knowing we were going to get to meet the legendary Earth, Wind, and Fire at Bjorn Electronics and that they were partnering with Monster Cable. That's all we know. We get there 45 minutes early and are not on the list, so Bjorn himself lets us in. We find our way to two of maybe a couple hundred seats in this make-shift press conference room that is normally an electronics store. Wheel of Fortune: Las Vegas is playing on a couple dozen screens and I guess the first clue of "We're just getting warmed up" and gleefully note the irony. Then I notice there's free wine, a fruit spread and chocolate covered strawberries and load up and check out the attendees.
It's an older, wealthy San Antonio crowd with a lot of floral print dresses. A hipster who looks wildly out of place is sound checking the mics and a video man tells a woman sitting next to us to hurry up and put on her lipstick, so he can film it. I don't know what that footage will ever be used for. A video displayed on stage shows two members of Earth, Wind and Fire saying they now consider Monster "part of our family" and we find out that they're working with Monster on headphones. Another section of the video has someone introduce them as their favorite all-time band. The woman behind us vocally agrees. She will do this extremely often. Then we're ready to start and they bring the band up on stage.
Bjorn introduces the band and it quickly turns into what Caitlin aptly describes as a SXSW-esque panel, but with a distinctly San Antonio style. Bjorn has been doing commercials for his store for years and turns out to be a solid interviewer. He starts out by saying he was tickled at how easy they are to talk to. Then Bjorn turns to the crowd and says "You are our favorite customers" and the whole crowd says "Awwww!" before he follows up with "And it wasn't just those who spent the most money who get to be here…but you did spend some money." The band talks a bit about their early beginnings and says some of them are from Chicago originally, as the woman next to us cheers for Chicago and then quickly spills red wine all over her own dress. At least it didn't get on her sequin-lined iPhone.
There are some good questions and answers, like "How did 'Shining Star' change your lives" Bjorn asks. "We never came home again," they reply, to the delight of the crowd. After a few minutes, Bjorn decides to bring up their tour manager for an interview, but it's never really clear why. He has nothing to say. It was nice that the band has known him since he was a little kid, but no reason to interview him. Don't tell that to overly excited woman behind us. She can't get enough. From here on out, I'll put her reactions in ( ). After Bjorn "asks" "I get the sense …the families?" the band talks about their family vibe and says "We chose to be role models." (Wow!) "Lifting the consciousness of humanity, spreading love, kindness." (Ahh.)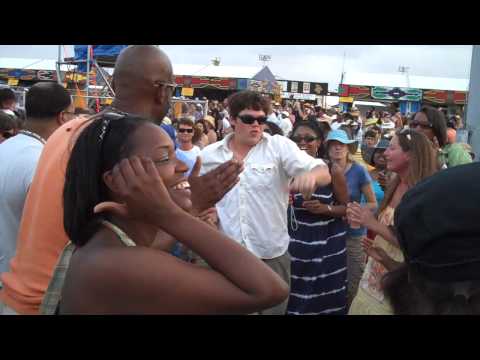 I smile every time I watch this video Andy and I captured at Earth, Wind and Fire's headlining show at New Orleans Jazz Fest.
Next they talk about getting old, saying "A lot of parties after shows? No, we're hopping into bed. We're turning 60 this year." (Oh my God!) "Drink the green tea. Drink it. Drink it. More fun now than we ever had, eating healthy." (Oh! Oh!) "We start the show at 8, you'll be home by 11. We walk our friends out after. Some have canes now." "Will you be stopping any time soon?" (Ogghh! No!) "We don't think about stopping. It's who we are."
"Get your wallets out," Bjorn advises the audience. "Monster is now in the headphone business. Did you know that the headphone business is now bigger than the speaker business? They're not in the $10 headphone business. They're in quality headphone business." He tells us that Beats by Dre is by Monster and that Earth, Wind and Fire is now launching their specially developed in-ear headphones. They're called Gratitude and will cost $229. "But wait, you also get Ginsu Knives. (Ha!) OK, you don't get the knives, but if you prepay, you get 20% off."
The band sells the headphones well, saying that their music is recorded in layers and what usually takes five listens to hear, you'll now pick up on the first listen. There's separation between voices, interlay with the horns and it's the best way to hear their remastered material. "Hear Earth, Wind and Fire the way we heard it when we recorded it. Listen for frequency from high to mid to low. These are very balanced throughout."
The whole band signed this pic (from Jazz Fest) and Ralphie (right) said he wished he had a copy, so I gave him one. He told me he'd frame it.
Bjorn tells us that he had trouble with the in-ear buds at first and lost a tiny part inside his own ear. His wife had to take it out with a pair of tweezers. He insists we make sure we get the right fit for our earbuds so they stay in our ears. "Gotta find the right fit, folks." They come out in August and they are in production on over-ear headphones to be released two months later. For now, Earth Wind and Fire will wander among us (Ooooooooh!) and sign autographs and take pictures. We made friends with the people at Monster and they said we may get to test out some headphones and compare them when they come out. I can't wait. If they sound half as smooth as Earth, Wind and Fire still do, then I won't even mind if there's an old excitable lady yelling things as I listen.
For Caitlin's very similar, yet oddly different take on the night, click here