@ZackTeibloom The first thing that drew me to Little Lo was the incredible interplay they have between their seven members on stage. The way Josh bounces side-to-side on his heels as he plays his bass with a smile. How Ian is often scrambling to grab the next of his many instruments, but playing each of them with aplomb. The way Bailey's keyboard and vocals strike the perfect balance with Ryan, who leads the group with a quiet confidence and a young, budding stage presence. Don't forget Stephanie and George filling the gaps with just the right touch on the strings, xylophone and accordion, as Sam keeps it fun, tight and energetic behind the drum kit. It's why I can't focus on one of them for more than 10 seconds at a time when I watch them play live. They're all so intoxicating and they share the spotlight so well, it feels like the truest sense of a band. The kind of organic closeness that grows from living together and hanging out all the time.
That interaction made me a tad concerned to see them recording almost all their parts individually in their home studio, when they invited me in to see a day of their recording process a couple months ago. By eliminating the live element, would it miss something? Lead singer/songwriter/guitarist Ryan McGill acknowledged that was indeed a challenge, and only the third track (of 6) "Roots, Trees, Wires" was recorded almost entirely live, with horns overdubbed later. After listening to the EP over and over Wednesday, I can confidently say the whole thing captures their interplay beautifully.
"It's taken a long time, but I'm much more happy now than when we were recording it," McGill said. "It turned out as good as it could. It's harder to do with it segmented and I'd prefer to do it live first, but it's hard to do with home equipment." He said he's not opposed to working in a studio if the opportunity presents itself for the next recording, but it turned out well considering what a home-spun operation it was.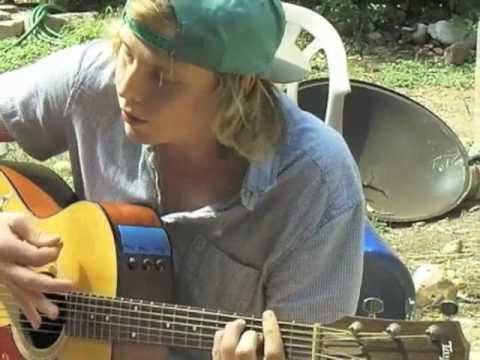 Here's a beautiful Behind the scenes video of the recording of the EP. When I arrived, they had just wrapped up an impromptu performance for anyone walking by and when I was there, they made PB&J and tea, were hanging out in Ryan's bedroom, listening to playback and traipsing back and forth between the living room with all the instruments, through the kitchen, lined with wires, and the control room bedroom.
"I'm ecstatic and stressed out," drummer Sam Houdek told me over the phone Tuesday night. He's ecstatic about playing and having the EP ready to go, but stressed out because they had to change venues for the EP release a week before the event. He's relieved they were able to be accommodated at the Parish after the ND decided to renovate for the summer. Houdek said they probably won't play the EP in order, but they will play all the songs from it and he promised a drum surprise that will involve a number of performers, but asked me not to reveal exactly what they had in store. He admitted it's been a long process to get here, but the word he kept coming back to was culmination.
"I got goosebumps listening to it, hearing it culminate into something that I'm not skeptical in the least to share with people."
Everyone who comes to the EP release gets a CD, but that came close to not happening. McGill and Houdek told me they were scrambling to get the CDs in time and they arrived just a few days before the show.
The EP release party is at THE PARISH, Sunday June 26th- $7 with a copy of Little Lo's new EP! (Ignore that it says ND on the poster. It's still a pretty poster.)
5pm: Doors Open
6pm: Jon Cook
7pm: Motion Picture
8pm: One Hundred Flowers
9pm: Little Lo
10pm: Mr. Sip
From left to right, Ian, Bailey, Stephanie, Ryan, Josh and Sam (George not pictured)
"It looks good at least for the next year," McGill said. They have their first tour scheduled for Mid-August, playing 12 shows in 13 days along the Gulf Coast and Ryan, Bailey and Ian will be living together, Josh will be next door and Sam will be nearby. There is a bit of bad fortune though. As Ian's Facebook status said Wednesday afternoon, "I just learned we'll be on tour when bon iver comes to austin…today will be the first time I've cried in forever." But things quickly turned around. Minutes later, he wrote: "I've also just learned that I'm an idiot and September is the 9th month…I'm staying off the internet for a while out of embarrassment." As long as they stay on stage, I'm OK with that promise.
Review of the EP here on Austin Writes Music