@ZackTeibloom If anyone would embrace the rain and let it fuel their performance, it would be The Foo Fighters. Despite The Arctic Monkeys being 15 minutes late from the downpour that delayed them, Dave Grohl and company reported for duty a minute early, at 7:59 and played an incredible 20-song set to close down Lollapalooza 2011 in style. "I don't give a fuck if it's raining," Grohl bellowed to the muddy, drenched Lollapalooza masses. "You stinky fuckers finally got a bath." We wish. He'd just led his band through "The Pretender" after blazing through a couple new tracks from Wasting Light, their latest, and first #1 album in the U.S.
After a brief dry spell when they started playing, the rains poured down even harder as Grohl led a wet sing-a-long for "My Hero." He kept his trademark arc going, where he lets the song build, crescendo, and come to a complete stop before rousing ever more chorus singing from the faithful who had made it this far. Somewhere between the 20-minute rain delay before Arctic Monkeys, the rain during their set, and the full sky-stretching rainbow, the crowd gave in and accepted their fate. They were muddy, cold and wet. They might as well make the most of it.
Hundreds of them turned Grant Park into a muddy slip-n-slide, running and diving across the field with abandon. As The Cars sang on that very stage just a few hours before, "It was just what I needed." The palpable pent-up energy of a very young Lollapalooza crowd was let loose as Grohl constantly egged us on and played into our hopes and desires for a closing rock show. The build-up to "Learning to Fly" will tell you everything you need to know. "Ladies and gentlemen, I didn't come here to fuck around. I came to play as many songs as we can in the short period of time we got. This is our Chicago show tonight. This is what we're gonna do for you tonight. That's it*. You guys wanna hear old songs and new songs and songs for 16 years and everything we got, we'll do it. Are you ready? Are you ready? Are you ready?! Sometimes all it took was a hand raised to the sky** and something simple like, "I'm gonna sing a song, and you've gotta fuckin sing it with me. Loud!" to get the crowd riled.
Grohl wasn't scared of being cocky. He's earned it. He called out bands that need to use computers and told us that this is how it should sound when you actually play your instruments, before launching into a vicious "Monkey Wrench." It started as a typical hard rocker, but just as it was winding down, Grohl had them turn off all the lights and said, "This is the part where I scream at the top of my lungs." It was hard to tell if he was prepping us or himself more. "Are you fucking ready or not?!" With the lights still down, he yelled the "One last thing before I quit…" line ferociously before the lights came flashing back on. The mood slowed for the opening to "Times Like These," but not before another rain speech from Grohl.
"By the way, this has been fucking fun," the man of the hour told us. We were in our hotel room, at weather.com, looking at the hour by hour view, and thought the Arctic Monkeys, who are a badass mother fucking band, would be the only ones rained on. Then it rains on us and it's one of the most fun shows we've had on tour. I'm glad it rained like fucking crazy." Grohl certainly likes to punctuate his statements with an f-bomb or three, but can you blame him? He's got the stones to back it up. During a whirlwind cover of rock staple "Young Man Blues," he tore through the crowd like no headliner fully had for us yet***.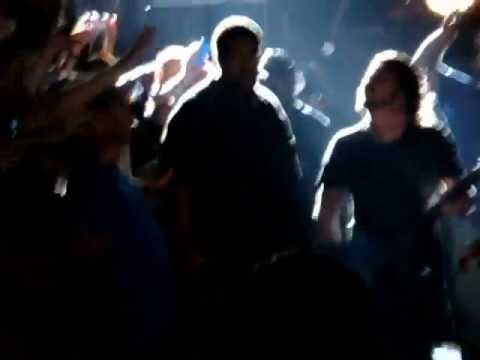 He made no bones about it. The Foo Fighters weren't doing an encore, they didn't want to waste the time leaving the stage. Drummer Taylor Hawkins dedicated a cover to Perry Ferrell early in the set, that no one seemed to know, but he tore the drum kit apart and sang his guts out anyway. Towards the end, Grohl talked about being at Lollapalooza I with Kurt 20 years ago and thinking how bizarre it was that alternative rock had 20,000 people there and thanked Perry for changing music forever. Perry came out for a hug and a bow, before Grohl sent us off with "Everlong."
Here's the thing. If I did a breakdown, this show could honestly get a 10. Ambiance was off the charts. You had a festival-closing set in the rain with a crowd who completely bought into it. The set-list was inspired and incredibly paced. I would have loved a "Big Me," but they rarely ever play that and they gave us a steady stream of hits. The performance was first-rate all the way, despite the rain and his banter was so choice, I couldn't come close to writing all his tastiest nuggets down. It was a true delight and perfect way to wrap up the weekend. I still slightly preferred My Morning Jacket and I think Andy preferred Eninem. But I will tell you this. It was the most memorable show of the weekend, no question. Let's call it a 9.6 and go home tired, wet and happy. 9.6/10
*As Jennie pointed out, they did play a Chicago show the night before at The Metro, which Big Bri reports rocked just as hard. So this wasn't "it" for the Chicago shows or anything. Yeah, but still…
**Grohl raises his hand to the sky mid-song so often, you gotta wonder how much his guitar part is necessary to their sound most of the time. I guess it helps to have a couple awesome guitar players behind you.
***We were somewhere between 85-99% sure that Chris Martin would run through the crowd. Never happened. Grohl ripped solos up on his trip. God bless him.
Set list: