@ZackTeibloom After one album, Young the Giant has one headline-ready hit, three stronger songs and then a bunch of filler. It was enough to string together a great early afternoon set on the main stage, which they filled admirably. Lead singer Sameer Gadhia is a star in the making. He has the swagger needed to pull off the daunting task of a main stage gig, with his two vocal mics bolstering his explosive singing.
They started the set with the slower, "I Got" which Gadhia crooned before yelling, "Are you ready for a festival?" into two microphones. He announced that they were just back from Australia before getting into "My Apartment." The Lolla crowd waved their arms back and forth for "Cough Syrup," and not just up front. The love stretched dozens of rows back, as the young band found tons of new fans at their 1 p.m. Friday set.
The rest of the show was a big build-up to "My Body, which was one of the best songs I heard all day. If I did song-by-song grades, it would have been "My Body" – 9.7, "Cough Syrup" – 9.1, "My Apartment" and "I Got" at 8.8. The rest of the album was a low 8. Let's take a look at the 9.7. Gadhia beats the crap out of a tambourine before jumping around and sending the Lollapalooza crowd into a frenzy. Check out this view someone clearly took from their iPhone in VIP.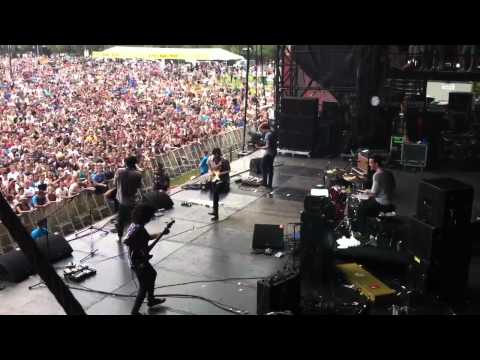 Young the Giant isn't quite on par with a Miike Snow or Local Natives, who came out with a debut album that keeps the quality as high from beginning to end, but I see their sets getting better and better with each album, if they can keep adding one gem and three more concert staples with each new album. 8.7/10