@ZackTeibloom I was going to tell you how this collaboration with Insane Clown Posse was a black eye on Jack White's career. I was going to compare it to my failed Air Sex experiment and say that Jack just needed to get it out of his system and move on. I wanted to tell you that he needs to re-focus his career and pick up a guitar. I was wrong. This is not only not a mistake, it's the most daring, exciting single of the year. And I love it. I'm guessing you're not at this point yet, so I'll let you know how I got here, try to convince you to give it a shot, and then analyze this thing for what it truly is.
Let's go back to a simpler time in late August in the dog days of Summer (yesterday) when no one had any idea this was collaboration* coming. Odds are that you heard about this on Twitter or Facebook yesterday morning and were thoroughly confused. I know I didn't believe it at first. This had to be a joke. I saw this tweet at around 10 am Wednesday morning from Austin's own Andy Langer: "Jack White producing Insane Clown Posse is far more offensive than Willie Nelson singing Coldplay for Chipolte (sic). #tweetsineverthoughtidwrite." After some furious searching, I found the song (Listen here) and an official Third Man Records picture and video promoting it. There was even a press-release for this surprise project that was all too real.
I listened a couple times and felt like my soul was crying. Why did Jack sink to the level of Insane Clown Posse? Don't most self-respecting music fans hate them and their violent, bizarre antics? What was he hoping to accomplish? Would I have to become a Juggalo now? I couldn't process it on the first couple listens, so I retreated to Turntable.fm for a few hours and tried to forget it existed. One problem with making your Jack White love abundantly clear on the Internet, is that everyone kept tweeting and Facebooking about it and tagging me and starting uninventive Tumbrs like http://insaneclownpartnerships.tumblr.com/**. I left work and went on a bike ride to Jackalope for dollar beers and half-priced burgers (because I had my first unsuccessful crash of the UT gym), had  a couple fantasy football drafts, got plenty drunk and laughed at Internet videos with Caitlin and slept on it. I woke up and tried to listen with a fresh (hungover and exhausted) perspective this morning, it clicked, and now I can't stop listening to it. I think we can get you there. We're just going to have to get you to approach it with a fresh mind and really listen. I have faith in you. Stick with me here.
I'm pretty snobby about music press releases.  I get a handful a day and, to be honest, I rarely read them at all unless they're asking me to cover a band I already love. I'm usually just skimming for tour dates or festival line-ups. I didn't even get this one e-mailed to me, but I enjoyed it so much I feel the need to paste the first three paragraphs in full, along with the official Third Man announcement video: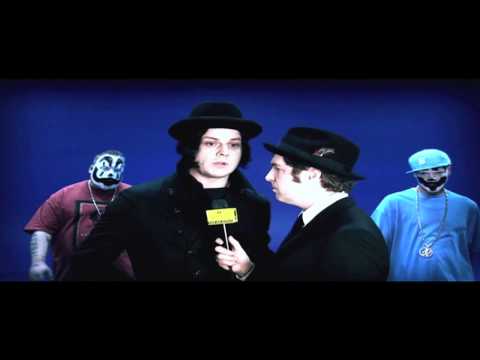 In the grand tradition of peanut butter meeting Iggy's chest or Bing Crosby getting down with David Bowie, Third Man Records is ecstatic to present the latest in a long-line of unexpected musical pairings … Insane Clown Posse and Mozart.

Back in '82, ahem, 1782, Wolfgang Amadeus Mozart wrote a piece that's been left out of the spotlight ever since. The title of the piece is "Leck Mich Im Arsch" or literally translated to English as "Lick me in the arse." Understandably this piece has figuratively been swept under the rug. So who better to give this piece it's due respect than the wildly successful, much misunderstood, and divisive Southwest Detroit rappers Insane Clown Posse?

With fellow Southwest Detroit-born Jack White at the production helm and musical backing by Nashville's very own Jeff the Brotherhood, this 2011 version of "Leck Mich Im Arsch" marries Mozart's melody (and lyrics sung in operatic German) with ICP's poignant lyrical addition in English and Jeff the B's monster-riffs, letting the whole thing tie together in the most beautiful of ways.
I know more than a few people who read that and either:
A) Didn't believe it was true and wrote it off as a joke
or
B) Decided they didn't want to listen because of what they (think they) know about Insane Clown Posse.
Let's start with A. It's all true. Deeply and hilariously true. Bing and Bowie is charming, and Iggy's chest has likely gotten more peanut butter spread on it than his heroin-ravaged body has ever had inside it and this pairing is so wild, it just happens to work. The combination of Southwest Detroit's finest (Jack) and oddest (ICP) with Nashville's Jeff the Brotherhood and the pride of Germany (Mozart) is so unthinkably strange, it happens to work perfectly. The original 1782 Mozart song, "Leck mich im Arsch***," is a dirty, dirty ditty that was begging for someone to dig up and put their own spin on it. As anyone whose seen the wildly enjoyable 1984 Best Picture Oscar Winning "Amadeus" knows, Mozart was a sex freak and you should know that Jack White has a great sense of humor and I.C.P. are some sick fucks. They may be as anti-Mozart as you can imagine musically, but are comedically tongue in cheek**** and White deserves a producing Grammy for making this work. We'll get to the song in a minute, though.
As for B, from what I've gathered, a lot of you didn't bother to listen because you hate I.C.P.  I'm not going to pretend I like I.C.P. and their fans are really something else. Vanilla Ice is a self-proclaimed "Juggalo," everyone's favorite, Charlie Sheen, tweeted "Heading to the Insane Clown Posse's 12th Annual Gathering Of The Juggalos!! 8/13/11 WHY..? Cause I'm down with the clown. Whoop!! Whoop!!" and there's more. I beg you to watch from 2:00 to 4:10 of this clip of Tom Green at "The Gathering of the Juggalos" as he stands next to a raging bonfire and talks to a guy who is tripping. Balls. I promise it's worth your time. And say hi to "Mama Gypsy, who's in jail and couldn't bring no space cakes this year…"
So, yeah. It's not really the best company and I've never heard any I.C.P. music that did it for me, but you're never going to believe this, but if you think I.C.P. is a bunch of aggressive, angry hate speech, you have it 100% backwards.
Insane Clown Posse's performance style is often described as horrorcore hip hop, which "utilizes shocking (and blatantly over the top) narratives to give an over-exaggerated, almost cartoon-like version of urban deprivation in Detroit", according to author Sara Cohen. Bruce and Utsler describe many of their lyrics as being tongue-in-cheek*****. The group's early work features a raw, minimalistic sound, which later evolved into a more rock-oriented style.The group's lyrics serve as morality tales with songs focusing on subjects such as cannibalism, murder and necrophilia. Insane Clown Posse's debut album, Carnival of Carnage, features a politically oriented focus, criticizing elitism and prejudice against those who live in the ghetto while the album's liner notes criticize the Gulf War. The group's lyrics have opposed racism, bigotry, domestic violence, and child abuse.
Mind a little blown? We ready to give this thing a shot? Let's take a look at the song itself. (Listen here) We start with light strings and female voices singing the original lyrics in German. Then we have the two clowns talking over them, saying "mmm yeah, that's nice. Whatchu know about 'Moze art?" They talk about how Mozart was "a freak" and that he "had some underground shit people don't know nothin' about." "Like What?" "Like a song called 'Leck mich im Arsch'" "What the fuck does that mean?" "It means lick my ass, bitch. Drop that shit, Jack!" We come in with heavy, driving alt-rock guitars and drums over the German singers for a minute, before they let the clowns loose on a duel rap of non-stop hilarity.
The rap has some wildly funny (albeit childishly juvenile) sexual rhymes, but I've always been a sucker for them. "Bumpin' Mozart, sunflower spot, turn up my ass like ahhh. A classic ninja with a classical hit. Struck dirt way south of the clit" and "So we jump in this Jack White track, now we can't keep these bitches tongues out our ass crack," not to mention the chorus "lick on the left side, lick on the right, lick down the middle, oh shit, that's tight. Lick Mich ass all through the night!" Come on, that's funny. Don't be a prude. The backing guitar work by Jeff the Brotherhood is full of "monster riffs" as advertised, and the drums really fill the space with a booming sound, while the female German voices singing the original lyrics are spot-on. And if you think this version is tarnishing Mozart's name, you didn't know him. It's a three minute, five second triumph. I say that with no hint of irony. I think it's fucking great.
If you want to dismiss this track as juvenile and dumb and say that I'm just drinking the Jack White kool-aid, that's fine. I felt that way at first too. But I think there's really something special here. How many producers could get us to re-examine what we think about Mozart and I.C.P. in the same song and put out a piece of art worth listening to at the same time. It's the kind of thing Frank Zappa would be doing if he were still around. It's genius and inventive and an incredibly delicate piece of producing (or as delicate as you can be with these lyrics.) I've listened to this song somewhere between 50 and 75 times today and I am in no way sick of it. I plan on buying the vinyl 45 with my next paycheck to place it between the Conan and Colbert 45s on my all Jack White shelf and will spin it often and insist it's great. Or, you'll link this to me years from now to embarrass me. Probably both. Whoop. Whoop.
*Seriously, what happened to that Jack White/Jay-Z collaboration? I want it and I want it now.
**Most of these really aren't funny. The Krusty the Clown Sex Cauldron one is funny and the Tia/Tamara & Mark Kate/Ashley ones are decent. Maybe I just have an affinity for female twin child stars from sitcoms I watched with my sister growing up?
***According to Wikipeia, "Leck mich im Arsch" (literally "Lick me in the arse") is a canon in B-flat major composed by Wolfgang Amadeus Mozart with lyrics in German … sung by six voices as a three-part round, it is thought to be a party piece for his friends." Honestly, I think Mozart would love this version. I bet he'd even put it on his stereo while he … well, you know.
****Best accidental pun of all time?
*****I KNEW IT!