@ZackTeibloom When you put out the album of the year, you get to take an 15-month headlining tour with a built-in victory lap. Arcade Fire took the victory lap of victory laps joyfully, wrapping up the last leg of their masterful tour in ACL TV's new studio in Moody Theater with orchestrated wildness, as infectious smiles stretched across their earnest faces. Take the best touring band in their prime, put them in the most prestigious, intimate space imaginable and I had hopes for a rare 10/10. They got damn close. And so did we. The immaculate Moody Theater only holds 1,500 people, and accurately boasts that there isn't a bad seat in the house. Not that anyone dared to sit. Even up in the balcony, they were pretty much all standing from the word go. (No go!)
You had to hope the band would play with the space, and they sure did. What a pure joy to see Win & Regine & Will and the rest of the band in such an intimate setting, with Regine especially going all-out in a way she couldn't have on any other stage. Regine's trademark ribbon twirl that she does for encore closer "Sprawl II (Mountains Beyond Mountains)" is usually restricted to a section of the stage, but with no fear of this friendly crowd, she roamed free, bouncing up and down the ACL stage stairs with abandon and a smile that lit up the room, even when she called for darkness.
Will Butler was a complete maniac all night long. He uprooted one of the fake plastic trees in the studio background and wielded it like a battle axe, striking the cymbals and whatever else he could get close to.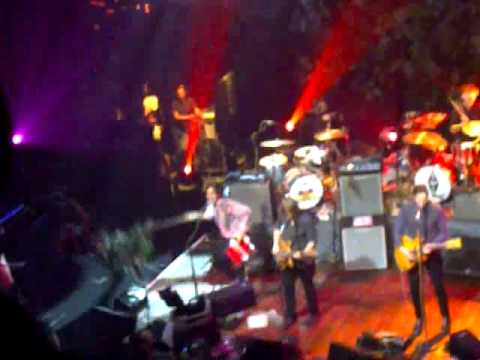 His manic energy never stopped, as he made exaggerated faces while dancing and leaping all over the stage. He's not one to let his older bro get all the attention. It was business as usual for older brother, Win. When he wasn't propped up with a foot on the monitor leading an over-head clap, the brilliant front-man wandered into the audience often, either strumming amidst the adoring throng or grinding his guitar on the studio cameras. Sometimes, he'd just take the microphone out, getting lost in the masses during a sing-a-long.
I'm getting way ahead of myself. Let's start at the beginning. Getting a rare ticket to the Arcade Fire ACL taping was a pipe-dream from the moment it was announced, but somehow Andy's e-mail was randomly selected for two tickets and I was supremely happy I entered the contest for him (and that he was more keen on seeing Stevie Wonder), so Caitlin and I could go see our band. Worried about getting a prime spot, we got to the steps of the W hotel at 5:30 after changing out of wet ACL clothes and waited in the already-formed lines for the 8:00 show, knowing the doors would open at 6. The line was all the way up and down the W stairs, with one side for A-L and one for M-Z. After a re-assuring talk from an ACL TV staff member telling all of us we would get in, we relaxed and tried to stay dry as the rain died down after rare back-to-back rain days in Austin. Once inside, we were told to hang out and have a drink or socialize and that they'd let us in at 7:40. Of course, people got in line and everyone else thought that was a good idea, despite the fact that ACL staff kept telling us it would be a free-for all at 7:40. And it was, but without much pushing, we settled in 5 rows back on the audience left, just next to the TV cameras with a great view of the low stage. Note: Don't wait in such an unnecessary line, especially at an ACL taping. They know what they're doing.
While we had to look up at Robyn and Yeasayer as they performed on a lofted stage at Moody, the ACL TV taping stage is down at almost audience eye-level, with the Austin skyline backdrop screen and an abundance of fake trees behind the band. It's a gorgeous set and makes the 1,500 capacity theater feel even smaller. A quick introduction from an ACL TV honcho, and the band took the stage to a raucous greeting from what would prove to be the best crowd I had the honor of seeing a show with all year. They stuck to the request that we keep our cell phones in our pockets and kept their mouths closed, except to sing along. I didn't know what to expect from a well-dressed crowd that could have been full of friends of the station that didn't care about the band, but it was full of serious Arcade Fire fans who were even more apt to jump up and down than the Bee Caves crowd a few months ago. No one jumped more than Caitlin, but she's got pogo legs at AF shows and it's pretty darn adorable.
While this was a nearly identical set-list to the live Bonnaroo recording I've been playing non-stop since June, it felt fresh and always authentic, as anything Arcade Fire does tends to. Win's hair has grown in a bit from his shorn all the way on one side haircut, and it makes him look more boyish, and all the more charming. The shirt buttoned all the way up didn't hurt. "Ready to Start" is about as appropriate an opener as you can get and it set a good pace, before kicking it up a notch with "Keep the Car Running" and again with "No Cars Go," which is pretty much exactly how I'd start a set if I were them. Not surprisingly, they started their ACL festival set with the same three songs the next night. The lovely Regine took front and center for "Haiti," before Win gave his usual plea to help Haiti with PartnersinHealth.org, and then dove into six in a row off of The Suburbs.
There was a tiny bit of a lull for the slower 5 song stretch of Suburbs songs, but they closed with seven straight monster performances. "Month of May" got our juices flowing again, "Rebellion (Lies)" brought out our pogo legs, though no tears like at Bee Caves, and they just kept coming with a "Tunnels" and "Power Out" Neighborhood variations sandwich, with "We Used to Wait" nuzzled in between. There was almost a non-stop over-head-hand-clap for the final hour, as Will especially kept the energy sky-high. The studio went wild, with all hands in the air for the "Whoa-ohhhs" of "Wake up" and then Regine was a whirlwind in her brilliant "Sprawl II (Mountains Beyond Mountains)" ribbon dancing and vocals. What a gem.
In both shows, Win told us he wouldn't see us for two years, but when they came back, they'd have "Something interesting to say … Or a novelty reggae record." I'd be completely up for either one.
9.8/10 Near perfection, but I never completely let go in the moment, and it didn't quite match the intensity of the Bee Caves show (a 9.9), but a night I will never forget and feel lucky to have been at.
All photos courtesy of @TheOtherLeslie's Twitter feed. Thank you for having us!
Set-list for Arcade Fire ACL taping
Encore: