@ZackTeibloom I was lucky enough to win tickets to see Wilco's ACL live taping last night. I'm completely happy I went and got to take Caitlin to her first Wilco show. It was quite good. I'm seeing the word "incredible" thrown around a lot from friends reviewing the show in a sentence on social media. I disagree. It was entirely credible. This was Wilco's 4th ACL Live recording, and my 5th or 6th* time seeing them.  And aside from Jeff Tweedy telling us which songs had or had not been on an ACL taping before**, this was not a ground breaking show. It was nice to hear "I Might" from the new album, but this was easily the least exciting show I'd seen at Moody Theater (behind Yeasayer, Arcade Fire and Robyn) and barely snuck into the top 5 shows I saw this month.
The entire balcony*** sat for 99% of the show. A number of people near me left before the encore. There was a lot of toe-tapping. We gave Nels Cline a well-deserved encore for his wild guitar solo on "Impossible Germany" when he channeled Duane Allman, while playing his guitar. We politely cheered for an encore and yelled out "Well done, Wilco." Tweedy got excited. And it was well done. Maybe I just prefer my rock shows rare.
5. Dale Earnhardt Jr. Jr. at Stubbs Indoors
The doors were called for 10 p.m. Caitlin and I figured that meant they'd go on the Stubbs indoor stage at 11. We leave the house at 10:30. By the time we park and get inside, it's 10:57 and they're halfway through their set. The venue was at capacity and all the Modest Mouse fans there for the after show were drunk and talking incredibly loudly. I like to joke that @austinbloggy and @Shivvy should start concertshushers.com****, since they tweet so often about how loud people need to STFU at shows. This show would have been a legendary shusher. Anyway, we can't even get a sight line at the band on the floor, so we sneak up to the balcony and at this point, I'm fuming. I finally spend money on tickets and we've missed half the show and people are practically yelling next to us. I need you, ConcertShushers.com! Somehow, Dale Earnhardt Jr. Jr. turned it all around. They brought out glow in the dark checkered jackets to go with their big light-up marquee. Their harmonies were on point. They oozed fun and personality. They were electric. Those 40 minutes we got to see were just enough to save the night. I love these guys, but this is why I don't buy concert tickets. 8.6/10
4. Wilco at ACL Live Taping
Don't get me wrong. I very much enjoyed the Wilco ACL taping. I heard a number of favorites, like "Heavy Metal Drummer," "I Am Trying To Break Your Heart," "Hummingbird" and "Jesus, etc." It was nice to really appreciate the full band from my view in the balcony. Usually I just focus on Tweedy, but this time I was able to take the keyboardists, drummer and whole band in. OK, I mostly just came to realize why Nils cracked Rolling Stone's top 100 guitarist list.***** But aside from Nils taking solos and "ending" songs with a bunch of fuzzy distortion on that pad he plays, I found myself lulled into a toe-tapping dulldrum too often.
I guess I'm having trouble pinpointing what it was I didn't love about the show. In a nutshell, I was never fully engaged. I told Caitlin before the show that I was convinced she'd become a huge Wilco fan. She went in believing she would, having never really been exposed to them. Their alternative rock sound tinged with country and experimental guitar work is right up her alley. It never clicked for her either. She really disliked the breakdowns at the end of songs and even went so far as to call them an indie "jam band," which is quite the insult coming from her. She liked the same songs I liked, specifically "Radio Cure" and "I Am Trying To Break Your Heart," and said she'd like to listen to them more, but they never grabbed her. Is it because we were sitting in the very back row? Not really. We had a great view and it was a nice change of pace to sit, after clamoring to be in the front row for every show we see. I knew most of the songs and never felt like singing along or dancing. My mind even drifted to wondering about a college basketball game and it's not even close to March. A lot of people were thrilled that Nick Lowe showed up to guest for the last song of the encore. I had to look him up. I guess all I can do is explain why I liked three other November shows so much more to make me figure out why this one didn't quite do it for me. 8.9/10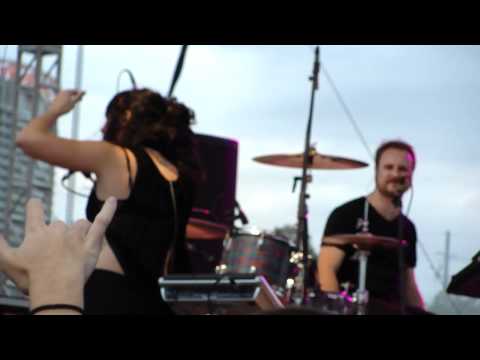 3. M83 at Fun Fun Fun Fest
They sound like a studio band who could only pull off their sound in a club setting. That's what I thought before they blew me away in a late afternoon Fun Fun Fun set. The balance of voices. The mix of synths and guitars. The wildly entertaining bassist who stood on the drum kit. The smoke machine engulfing them on stage. It was easily the breakout set of the festival. 9.3/10
Why it was better than Wilco: M83 was a lot of fun and I danced a lot. It made me want to listen to their whole catalog. Caitlin and I got their last two albums on vinyl and are completely hooked on them. It was the kind of show that people packed in hours before to get close for and kids stood on each others shoulders to see. People weren't even standing at their seats for Wilco.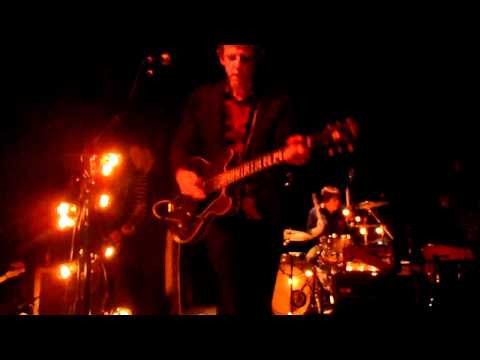 2. Spoon at ND "Secret" Fun Fun Fun Nites show
This was Austin's pride and joy coming back to claim Austin as their own. They soared through the hits and went deep through old material. It was their first show in months and their pure joy to be back on stage oozed through the crowd. And what an intimate show. The first 25 minutes are beautifully captured on this YouTube video above. Seriously, worth the watch. 9.5/10
Why it was better than Wilco:  Spoon owned the room. They're the most similar band to Wilco on the list, but they pulled off their repertoire far better. I don't know why it felt more genuine when Britt asked us how we were doing than when Tweedy asked us if we were "doing any different than when I asked you six minutes ago." Spoon seemed looser. I know Wilco was a taping, but so was Arcade Fire and Will Butler swung a tree around his head and acted like a madman.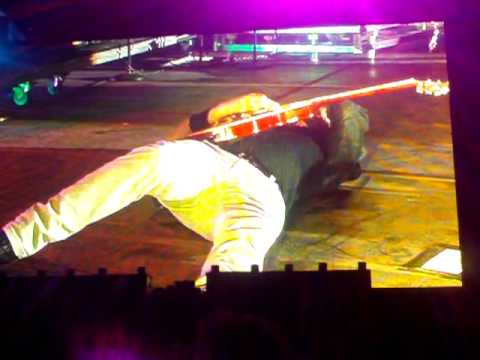 1. Green Day at Red 7
Speaking of intimate shows. I don't know whether I prefer Green Day with 60,000 people at Lollapalooza or a stripped down punk show for 600 people, but god damn this was a fun show. Green Day has had to overcome multiple waves of backlash, from commercializing punk rock in the mid-90s and then for their horrid looking "American Idiot" musical, but when push comes to shove, Billie Joe is an all-time great front-man. I got all kinds of drunk and threw myself into the mosh pit for a "Moshsage****** and had the time of my life. The video above is from Lollapalooza and shows the extent of what they can do with a headliner slot and video screens, but there's nothing like them playing the same Misfits song over and over and getting wasted on tall boys. 9.7/10
Why it was better than Wilco: 
Green Day felt like a once in a lifetime, incredible experience. Seeing Wilco in the best venue in the world should have felt that way and it never did. Wilco at ACL live felt like every other Wilco show. And that's not such a bad thing. Maybe I'm being unfair for wanting a Wilco show to be like Green Day, Spoon, or M83. They're a different band and a very good band, but after being lucky enough to see a bunch of truly incredible shows this month, I just want to go on record as saying this was not incredible. It was very good. Well done, Wilco.
*I've seen Wilco be a commendable festival headliner at Bonnaroo (I gave them a 9.1), and Lollapalooza. I've seen Tweedy enchant the kids stage at Lolla and seen them play a strong homecoming show in Chicago over the holidays several years ago. I even got to sit in on an intriguing David Fricke interview with bassist John Stirrat at New Orleans Jazz Fest and saw them headliner. I'd put this performance near the top, though the uniqueness of the kids stage performance was unforgettable.
**Honestly, this was the majority of his banter. And Tweedy is usually far better at making small talk. He'd come up and tell us whether the next song he was about to play had been on a taping before. He was spellbinding at the kids stage at Lollapalooza and at Bonnaroo he told us he'd interpret any boos as a chant for headliner Bruce Springsteen. Tweedy didn't say anything for the first 45 minutes or so of the show. They started slow and definitely built momentum, but they started awfully slow.
***And not just the balcony. I had a view of most of audience left of the seating section. They all sat except for a handful of people who stood for a song or two. I can't remember the last time I sat at a show. Standing wasn't even an option last night unless you were in general admission.
****I know this blog will never happen because no one starts blogs for no reason like I do, but I envision them finding the most obnoxious concert talkers and humiliating them into shutting up. One day.
*****I have pretty mixed feelings about the list. To start, they made a list in 2003 and had Jack White at #17. Now he's at #70? Apparently 50 old guys leapfrogged him by putting out almost no material, while he churned out incredible amounts of greatness. OK? My own Jack White love aside, how does Pete Townshend jump 40 spots? I thought I was the only one who liked the Super Bowl performance.
******That's where you go into the mosh pit, back first, and basically get a massage from the people throwing elbows and thrashing around. It doesn't feel great the next morning.