@ZackTeibloom A good old fashioned rock match-up. I love it. And this time we don't have one band getting the edge by posting it on their Facebook page. Yup. Not in the Face! overtook Adele. Can't mess with a strong fan base. Let's get into today's match-up. Dave Grohl is learning to walk again? Remember when he was "Learning to Fly"? Seems like a step backwards to me. The Foo Fighters put on an incredible festival-wrapping show in the pouring rain at Lollapalooza, but "Walk" was not the song I'll remember from that show. I'll remember singing along to "Hero" and "Everlong" with my arms around Caitlin. I adore Grohl, his thank you letter was touching and I enjoy the raw rock of the new album, but this is nothing new. It's just more of the same. "Money" is the break-out smash on The Drums' odd, but incredibly enjoyable sophomore album. As Caitlin says, it's a grower. The Foo Fighters are a shower. And as KG and I know, it's better to be a grower. It's far more satisfying.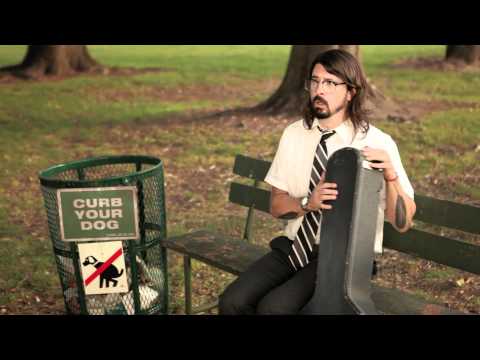 Zack keeps trying to say that nobody else liked Wasting Light but me. Perhaps he should consider that it was nominated for Album of the Year (before he goes and tries to tell you that the Grammys are bad or an innacurate depiction of what is good in music…it's the award his precious Arcade Fire took home last year). "Walk" is everything that is great with the Foo Fighters and rock and roll. It was recorded in Dave Grohl's garage. Analog to tape. No Pro Tools. It has a hilarious video. So many things going for it. It has the masterful drumming of Taylor Hawkins and the guitars to keep a steady rock nod going. Then you have a chorus you want to chant with 70,000 other people at a festival. Dave Grohl, your position on my man crush baseball team remains secure. -Andy S.
The Drums' Portamento is a grower. There are immediate hooks, to be sure, but overall, you have to give it time – maybe 5 or 6 listens – and then you'll see that it has quietly and heartily imbedded itself in your brain. You'll be washing the dishes, and you'll start humming "If He Likes It Let Him Do It*." You'll unconsciously pogo when the first whistle breaks into "What You Were." It's catchy and fun and amazing to see performed in person. But "Money" is something even greater than all of that. I've seen it called the anthem of Occupy Wall Street. I think it unquestionably should be the anthem of this year. The economy still sucks, tax divisions are still totally unfair, a lot of us are still worried about unemployment (or facing it directly) and we're scraping by however we can. Take all of that uneasiness, all of that energy and set it to an undeniable melody that you can cheer along to, dance to, pump your fist in the air to. I'm not just saying "Money" should win this round. I think it so perfectly envelops 2011 that it should take the crown. – Caitlin W.
*Or your boyfriend will sing it obnoxiously at you when he wants to do whatever he wants and is being a pest.