@ZackTeibloom I clearly over-thought my bracket. I had Young the Giant as my #1 overall song and then had them not making the finals. Whoops. Now only My Morning Jacket stands in their way. If you're reading this on your lunch break, try not to have food in your mouth as you read Andy's reasoning for why you should pick MMJ. I had some stir fry in my mouth that almost went flying. The winner of this match-up has the challenge of taking down returning champion The Black Keys. I think if either song has a shot, it's Young the Giant, but My Morning Jacket has surprised me time after time in the last few years, so who knows what they're capable of. Let's get to it. Seriously, don't be eating something. I warned you…
Lyrical content means almost nothing to me. I'm in it for a good melody. Vocals are another instrument, albeit a very important one. You could sing a song about pissing-out-of-your-asshole-style diarrhea, and if it sounded good I would blissfully listen to it. That inevitable and horrifying mental picture aside, the mellow nature of this song swept me into paying attention to the lyrics. It's a beautiful song about growing up. Getting your youthful antics out of the way…and having no regrets about having done it. This makes it a viable choice for theme song for the perpetual state of arrested development many of my friends still exist in. Now, knowing the lyrics, my last argument for this song rings even truer. Insert it into any coming of age scene in any movie for the perfect soundtrack accompaniment. "Outta My System" earned its spot in the Top Four songs of 2011, according to this poll that is totally full of meaning and not at all biased by excited fans and those that filled out brackets. -Andy S.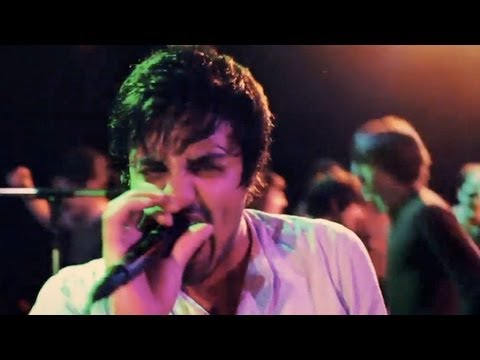 "This is our last song of the night!" At this point, I'm not sure these aren't the opening words to "My Body." Last go-round I told you it was the ultimate show closer, and I hadn't even seen this video yet. I can't help but smile as all the kids leap up on stage and just go crazy, like they're at a Girl Talk show. Young the Giant's rumbling explosion of a song launched their careers in one year to the point that they can sell out two nights of Stubbs and play the VMA's. Is it enough to send them to the finals?