@ZackTeibloom Four years and one leap year ago, Andy and I brought forth on this Internet, a new blog, conceived in g-chat, and dedicated to the proposition that all festivals should be covered equally. Maybe it wasn't quite as important as the Gettysburg Address which I just butchered, but it seemed like it was to us. We didn't know what we wanted to do or who we wanted to be. We just knew we wanted a corner of the Internet to ourselves to write about Langerado festival without anyone telling us what we could or could not say. In our inaugural post four years ago, Andy wrote, "No, we aren't going to literally crash festivals and sneak in without tickets or passes. It's more of a challenge for ourselves. A way to set the bar for our festival participation and provide a view through the looking glass at our musical adventures." That always makes me laugh.
By June of our first year, I was sneaking into REM at the United center and we were about to embark on the best festival summer of our lives. We went to 10 festivals just in that first year alone, driving or flying to any festival we could reach, even if it meant dragging Andy to Minnesota against his will. That whole summer is a blur, but I know at one point on a long road trip we discussed a Four Year plan. Maybe Andy remembers better than me…I'll footnote his memory of it.
@AndyShore I'm not sure who said it first, or at what point we started discussing it. Some time, during our first summer, we began discussing the Four Year Plan. We didn't know what it meant. In our heads, it meant we'd have a Madden Cruiser, our own festival, the world*. Four years later, we have more than we could have ever imagined.
*We also wanted a magazine, book, TV show, film trilogy and we could never figure out the name of our festival, but that was always a major component. Festival Crashers Festival didn't sound right.
After attending our first ACL, Zack fell in love with Austin*. He lives there now, with his girlfriend who he would later meet leaving ACL (our third). The skills Festival Crashers has taught me got me my job after making the best worst decision of my life to move to California. We might not have our own festival (yet), but we've done something right.
*Even before the festival. When the ACL '07 line-up came out, I wrote "My first reaction is that I finally have a must-go-to-Austin moment and I can not wait for David Byrne! When Vampire Weekend is about 40th on a list of Festival artists, you know you're in for something special…" I had no idea how special Austin would really be.
We were doing something right when we were contacted by a production company to make a Festival Crashers TV show (see below), and after Lollapalooza this year when we had newspapers asking to interview Zack about his crashing ways*. I've had to opportunity to see my photos on Blender.com and the Huffington Post**. We've met and conversed with countless amounts of fellow festival fans, journalists and musicians. Zack likes to remind me that I have a propensity to brag (I do). Well Zack, thanks for four incredible years filled with the reasons I have to brag***.
*I'd like to pretend that I denied doing the Chicago Tribune story because I thought it was more punk to not do it, but in reality I couldn't get a hold of the journalist, with the terrible phone reception.
**And proudly hanging on my bedroom wall, an Andy Shore original Jack White action shot.
***Right back at you, buddy. You've always been the rock of Festival Crashers, keeping me focused and making me work harder at it than anything else in my life (until I recently started taking my job seriously.) It's been great having you as my festival partner and best friend all these years. I hope it never stops.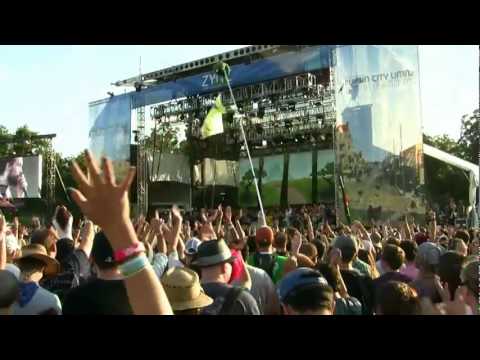 (This video has gone through a lot of incarnations. This is clearly a pitch to win a contest I didn't win, but it's the shortest, most direct version. You get the point.)
A special thanks to anyone who has ever read a single word on Festival Crashers. Every tweet, comment and even attack* on us brings a smile to my face. Thanks to our family and friends** who have supported us through all of this, and never judged either of us too hard for being Peter Pan.
*I really do live for the feedback. The attacks always make me laugh and nothing warms my heart like the entire Internet hollering at me whenever Jack White does anything because they know I need to know.
**Seriously, we couldn't have had more supportive people in our lives. You supported us as we went broke over and over, chasing the festival dream way past when we should have. And you always encouraged us. It means the world to us.
We're the clowns who started our little blog on Leap Year Day. We didn't even realize it until we were trying to figure out when our one year anniversary was. Four years later, we've come a long way (though we're still clowns). However, it's only been one leap year. Perhaps the Four Year Plan* has another 12 calendar years to go…
*Four more years! Four more years! Four more years!
@ZackTeibloom One last shout out. Two ACL's ago, I was on the shuttle, riding home and overheard an excitable girl talking about all the shows she'd seen that weekend. She couldn't remember who she saw after Miike Snow that was especially good. Being a friendly festival goer, I said "The Black Keys" and went back to my phone. When the shuttle dropped us off, I felt a tap on my shoulder. A cute, tall blond girl asked me if I crashed all three days. I don't get recognized much (ever) so I was surprised. I told her I did and asked how she knew. She coyly pointed out that I had a Festival Crashers sticker on my back, and said she knew me as Zack, from Festival Crashers. We got to talking, shared our love of festivals and LCD Soundsystem and Arcade Fire and before I knew it, she was giving me a ride home and I was asking for her number. If it wasn't for Festival Crashers, we may never have met. Now, we live together in that home and she's become my festival and concert partner, for Austin. Thankfully, she and Andy get along great, so whenever possible, I have my best friend and partner both with me. I couldn't feel more blessed. Here's to many more leap years worth of festival adventures together.
Happy Crasherversary!