@ZackTeibloom When you love an artist from their early days, you have expectations for them. You watch their career and feel emotionally invested in the direction it takes. This can be an incredibly disappointing pursuit. Ultimately you have no control over what they do, and nine times out of 10, they'll disappoint you. They could have a sophomore slump, change the direction of their sound, sell out, go soft, break up or die young. It's incredibly rare that they don't let you down in a major way, but you can't help rooting for their career to go the way you envision, ideally growing with each album and constantly re-inventing themselves in a way that still suits your interests. In my life, I've loved a lot of bands, but Weezer, Beck and Jack White stand out as ones I loved from the very beginning, and following them has been three different rides.
Weezer has had far more misses than hits in the last decade, (Hurley, anyone?) They had to resort to playing their first two albums, Blue Album and Pinkerton, live 15 years after they came out to connect with their original fans. I don't even bother listening to their new stuff anymore. I don't know anyone who does. I loved seeing them live last summer, but only because they were almost exclusively playing old stuff. They're way too young for that to be OK, but that's their reality. It's been a joy to watch Beck's "Mutations" from Odelay to Sea Change to Midnite Vultures to Guero and The Information, but it's been a hollow few years. He hasn't put out an album in going on four years, and his "Record Club" was a far better idea than it was executed. I still have hope for a lot more greatness in Beck's future. With Jack White, the ups and downs have been unlike any artist I've ever followed. I'll detail it in painstaking detail in the next couple paragraphs, but it was absolutely killing me to see him spending so much time producing or playing drums or buying an elephant's head on American Pickers, when I just wanted to scream "pick up a guitar and sing to me!" but on Friday night, he showed us the next phase of his career and became everything I always dreamed he would be. And then some. 
Jack has been working tirelessly the past couple years, running a record label, producing all the artists, drumming for The Dead Weather and sure, it's all been inventive and interesting, but if you fell in love with the man who was front and center playing guitar and singing, you were left wondering where that artist had gone. We went from non-stop Jack in The White Stripes and The Raconteurs to Jack pushed back behind a drum kit, and with Alison Mosshart as the real frontwoman, Jack was only getting to sing and play guitar on a couple songs. I couldn't help watching them and, as electric as Mosshart is to watch, I kept wishing Jack would literally drag her off stage, so he could go back to being the frontman he was born to be. Apparently this happened once…
Over the last couple years, all three Jack White bands came apart. The White Stripes announced they were broken up (I wasn't really sad, they kind of had been for years.) The Raconteurs stopped recording and only played a handful of shows over the last year (Loved them, but they'd run their course.) The Dead Weather went their separate ways (Fine, The Kills are a great fit for Alison and it freed Jack from the drum kit.) Of course, he kept plenty busy. He was Wanda Jackson's bandleader, collaborated with Danger Mouse on the excellent Rome album, had a week of hilarious cameos on The Colbert Report, (Yum, yum yum yum yum yum, yum), recorded a song with Jay-Z that never saw the light of day, produced Conan's live album and was featured in his incredible documentary, and had everyone from John C. Reiley to Insane Clown Posse in his studio to record a 45 or two. Was he just a producer now? Was I going to have to convince myself that producing Insane Fucking Clown Posse was cool,* instead of a complete waste of everyone's time?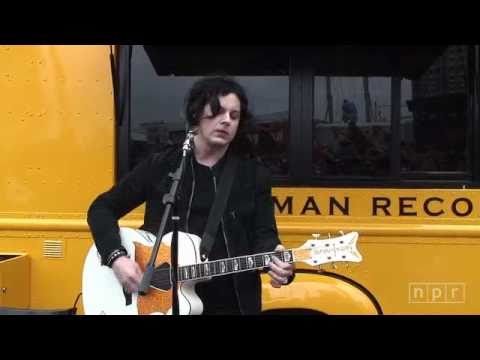 I was lucky enough to stand 10 feet away for this show, shoulder to shoulder with Aziz Ansari, and analyzed it like it was the Zapruder film here)
In a 2011 Rolling Stone interview, Jack said he didn't want to start any new bands. It was just going to be The Dead Weather or The Racounteurs or solo. What would solo Jack look like? The month after that interview, we watched him play three songs by himself at a surprise SXSW show on the street, and were left with the impression that this was it for Jack. Thankfully, he had a lot more up his sleeve than street performances. In the last couple months, we got news that Jack White was putting out a solo album and got small tastes of what that meant. First we got a country-tinged single called "Love Interruption." I really dug it. It was Jack on acoustic guitar with a spectacular female vocalist singing with him, named Ruby Amanfu. Country, acoustic Jack was getting closer to the dream, but the SNL performance showed us what new Jack could really do.
After playing "Love Interruption," with an all girl band, Jack trotted out his all-guy band for the hard-rocker "Sixteen Saltines." It led me to post "This is everything I dreamed it would be. And more. Jack front and center, with an electric guitar, rocking the fuck out" on my Facebook wall. I watched the video over and over again. Of course the answer wasn't to start another band. The answer was to start two bands. And he was swinging that electric guitar around with vigor. It was simply glorious to watch. I guess what he meant by no new bands was that he wouldn't start one with someone who's already famous? Clearly, he's got two bands here. If anything, he's following the Frank Zappa model. Just put together a talented collection of musicians and keep himself as the sole focal point. That's essentially what we have here. Jack as "the man," front and center, with faceless band members who can really play behind him. When the setlist for his first show came out a couple weeks ago, my head nearly exploded. Almost half White Stripes songs! A Raconteurs song! A Dead Weather song! He was opening up the entire catalogue! He now had two distinct bands with two distinct sounds and carte blanche to play everything Jack's ever written. Pinch me! How did we get here?!
There was nothing in the world that could keep me from this show. It was in the 650-person capacity Stage on Sixth, and I had to pull off a hell of a crash to get inside, but there I was. Third row. Center. No more than eight feet from Jack's microphone. After waiting through a delightful Reggie Watts looping show, a strong, yet slow John C. Reilly performance and an impressive Karen Elson set, they started setting up Jack's equipment. At 11:40, more than four hours after the showcase started, Third Man Records executive Ben Swank came up to tell us that there would be no photography or video taken and that they'd immediately kick us out if they saw any. This was great news for me, since my phone had died an hour before the show started. He told us we'd have to go off our memories and it would be better this way, which it completely was, but I had nothing to take notes on, so excuse me if I remember a couple of new songs incorrectly. The set list especially has a few errors, I guarantee. The guy next to me (@matulaj – great guy. Reminded me a lot of Andy's brother, Rob.) noted that the 45 minutes it took to set up his gear was longer than pretty much every act had played at SXSW. It was well worth the wait**.
Jack strutted on stage in a blue suit and black dress shirt, with his new all-girl band decked out in old-looking blue dresses and they went right into White Stripes staple "Dead Leaves and the Dirty Ground." When he played it last year at the pop-up show I wrote, "The crowd recognizes the song and starts to lose it. We thought this would never happen again. Does this mean White Stripes songs are on the table from now on? We can only pray." All prayers are answered, and this is the best version I've ever heard. Jack's playing electric, but with a stand-up bass and fiddle, there's an entirely new quality to it.
And I can't say enough about Ruby Amanfu. She has one of those voices that sounds lovely on record, but just soars live. She's instantly right up there with Alison as the best co-singer Jack has ever had and in a lot of ways, she's far more enjoyable. It's a soothing, reassuring backing vocal that stays in the background, but adds so much texture. She's a gem. The rest of the band is quite strong, all the way around, from the fiddle player to the slide guitarist to the drummer with peacock-esque hair, but I found myself watching the wild stand-up bass flourishes of lady Bryn Davies.*** It's incredible how natural the addition of so many instruments sounded when put to use on the two-person White Stripes catalogue. And every song had a new intro that left us guessing what song it was for the first twenty seconds. It was quite a revelation. I'm curious how long he's been playing with these bands. They were incredibly tight. The girl band would go back and forth between adding a wonderful new quality to White Stripes songs and giving Jack the Tennessee rock sound he's developed after living there for years. Jack switched to a super-old looking acoustic guitar for "Missing Pieces" and gave us some more hints of the girl band's contributions to the new album.
It was back to electric, for smashing new single "Sixteen Saltines." It's quite simply the best song he's put out since The Raconteurs' last album, which was full of monsters. I'd easily rank it above every Dead Weather song. The guys played it on SNL, but the ladies can sure rock when they need to. They followed it up with the first single off the new solo album, "Love Interruption," (order may be switched) which put Ruby back on display, with her gorgeous vocals. They went back to the White Blood Cells well (and oh what a great well it is) next, playing "Hotel Yorba," another simple White Stripes song now flush with accompaniment, sounding better than ever. How do you top yourself after a couple of classic White Stripes songs? The Raconteurs' "Top Yourself," of course, which built and built into Jack howling "How you gonna rock yourself to sleep when I give up my midnight creep, girl? How you gonna get that deep when your daddy ain't around here to do it to you?" I had to wonder how Karen felt, watching her ex-husband sing that. I paused on that thought for half a second, wondering how she and Meg manage to be around him so often, but before I knew it, the first set was closing with a bang. New jam "Hypothetical Kiss," led into "Hello Operator" and the Dead Weather's "Blue Blood Blues." Jack left the stage, having never introduced anyone in the band, but left us with "We'll be back in a bit and we'll be playing in the lounge all night," with a big grin on his face. We all wore all ear to ear smiles.
We didn't really know what was happening next. Was Jack coming back to play a Raconteurs set? We knew a couple members of the band were there, including little Jack who played with Karen. I guess we should have realized it was time for Jack's all guy band to come out. As much as I adored the all girl band, the all guy band is way more my speed. And my speed is fast, hard rock with wild flourishes. Jack had a full costume change from the blue suit to a form-fitting black t-shirt with short sleeves and black pants with red vertical stripes. His band was impeccably dressed as well, which we've come to expect from any Jack White project. They came out with a roaring new one called "Freedom at 21" that let me know we were in good hands the rest of the night. They continued the trend of not letting us go more than five minutes without playing a White Stripes song and gave us an explosive "My Doorbell." The drummer with the cool jazz-drum style and keyboardist with the sunglasses and flailing hands were the stars of the guy band, and I enjoyed the slide guitarist quite a bit as well. They were all exciting enough for me to sneak glances at, when not completely transfixed by Jack.
Jack made a point to walk around the stage and lean in to jam with pretty much every member of each band. It made the bands feel especially tight and held the show together exceptionally well. He could do no wrong. "I Cut Like a Buffalo" kept the crowd rolling, before unleashing a couple more hard new ones on us. I have a feeling I'm going to just love the new album, based on what we got. The new songs the guys played were all spectacular and had an instant familiarity about them. I couldn't get enough. Then again, when he went back to The White Stripes catalog for "Ball and a Biscuit" and took a few face-melting live affirming solos, I knew we were entering sacred ground. I was starting to come to grips with the fact that I was at the best concert of my entire life. Then the mosh pit started. The crowd had been enthusiastic and completely locked in, but it wasn't quite the jumping up and down, rock show I'd come to expect from a White Stripes or Raconteurs show. "Steady as She Goes" changed all that. I was tossed around anywhere from the second to fifth row, jumping with abandon and losing all control, as the crowd went into hysterics. We settled down a tad as Jack started playing a long intro to something, but before we knew what was happening, we were in the middle of THE White Stripes' anthem. Let's see how it looked from outside the venue…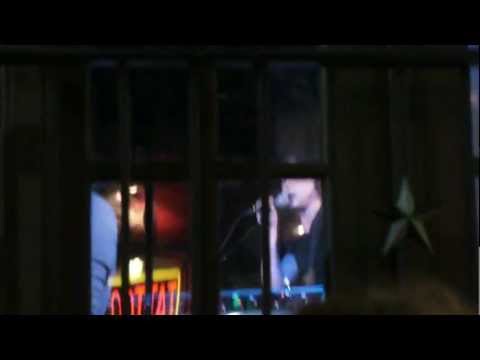 On the inside, Jack started slow, but whipped us into a frenzy. That classic riff just pounding through. He kept egging us on to chant "Oh! Oh oh oh oh oh, oh!" waving his arms at us, making us act like soccer houligans as we got louder and louder. That's when I lost it. I found myself jumping up and down, tears blinding my eyes, just ecstatic that it had all come true like I'd dreamed it would. Jack was so very back. He had it all going. The entire catalogue, sounding better than ever with "Seven Nation Army" back as the big show stopper. He was in complete control of the room and stage. No other egos to deal with. Just the man, back on stage, front and center with his guitar. It was perfect.
As I've thought about writing this review the past few days, while my ears were still ringing from being in the third row, I kept thinking about Bill Simmons'**** write-up of Paul Pierce in his Book of Basketball. He talks about how Pierce stuck with the Celtics through thick and thin, and, in winning a title and Finals MVP with them, became everything he'd always dreamed he's be, finally coming through as a leader and champion. Jack has the same shoddy facial hair as Pierce, and he's had his moments of not playing quite the way me, the needy fan, wanted him to, but it sure felt like he was hoisting up a championship trophy at SXSW. Simmons says he feels he would have wanted to tell Pierce how proud he was of him, but fears it would come off like he was talking down to him. I'm sure I'll never get to talk to Jack, and if I did, I wouldn't be able to form a reasonable thought, let alone tell him anything of import, but if I could write him a letter, I'd tell him I'm proud of him for this show and how far he's come. And thank him for the best show I will ever see. It was a dream realized.
10/10
P.S. The show ended with a cover of "Goodnight Irene" that had the crowd singing along to something most of us didn't know, but apparently it led Bill Murray to dance on the table. I never saw Murray there, and still have yet to see a picture of him dancing on the table and the Internet can't find a single image when I search for it, so I'll chalk it up to one of those SXSW urban myths. Murray is known for walking up to strangers in New York, covering their eyes, saying "guess who?" and then when they turn around, saying "No one will ever believe you." Well, believe me. This show was real. And it was spectacular.
*I'm still unsure how I feel about that ICP thing. I mean, of course I'd rather Jack just be playing guitar and singing, but I still find it funny and want to buy it every time I see it in a record store, even though Caitlin threatens to do horrible things to it/me if it was ever brought into our apartment.
**I hope it was worth the wait to read this far. That intro really got out of my hands. I couldn't help myself. I hope it replicates the long wait we had for Jack to go on. As a thank you, I'll include John C. Reilly's knock-knock joke from the night, while he was tuning his guitar. Say it out loud to yourself. "Knock Knock." (Who's there?) "Smell Mop." (Smell Mop Who?) "That's the whole joke. I just got you to say "Smell My poo!"
***If you don't know, Bryn Davies is also the name of a long-time friend of mine and my previous roommate. We have a competitive, tenuous I've gotten endless joy out of saying that Bryn Davies is a big girl and having it be accurate. If I couldn't get Peyton Manning to my beloved Dolphins, away from his Colts, this will have to do.
****It wouldn't be a Jack White gush piece without a Simmons reference. Tonight, Caitlin decided that Jack White is my boyfriend, Jordy is my bro, Andy is my husband and Simmons is my Mr. Miyagi. I told her that worked especially well, because Simmons loves Karate Kid. Then I asked her if she knew I once had a bong named Mr. Miyagi. "I did not. Oh, Zack Teibloom, you are a man of many blogs." "I said bong, not blog." "You are also a man of many bongs. Sigh."
Setlist (I realized most of the way through this that it could be off on a few songs. If you know what is wrong, please comment and I'll fix.)
All Female Backing Band
Dead Leaves and the Dirty Ground (The White Stripes)
Missing Pieces (New)
Hotel Yorba (The White Stripes)
Love Interruption (New)
Sixteen Saltines (New)
Hello Operator (The White Stripes
You Know That I Know (New)
Top Yourself (The Raconteurs)
Hypocritical Kiss (New)
I Cut Like A Buffalo (The Dead Weather)
All Male Backing Band
Freedom At 21 (New)
My Doorbell (The White Stripes)
Hardest Button to Button (White Stripes)
Slowly Turning Into You (The White Stripes)
Weep Themselves to Sleep (New)
Ball and Biscuit (The White Stripes)
Steady, As She Goes (The Raconteurs)
Seven Nation Army (The White Stripes)
Goodnight Irene (Leadbelly cover)