@ZackTeibloom Jack White was simply spectacular. Compared to everyone who played this weekend, he was in a class of his own. No one else was close. But compared to other Jack White performances, he left me wanting just a bit more. Don't get me wrong. That's part of his appeal. I waited over four hours (mostly in the rain) for him on the festival grounds on Saturday and sat in the will-call line on the sidewalk for three and a half hours for the taping on Sunday and I don't regret a single second of it.
It should be mentioned early on that Jack White did not play an encore either night, despite having both ample time and show staples left on the table. Arguably his biggest new single, "Sixteen Saltines," was not heard this weekend. His one song that typically closes every show and has become an international anthem, "Seven Nation Army" was not played at the taping. There was nary a track off popular White Stripes albums De Stijl or Get Behind Me Satan and only "I'm Slowly turning Into You" off of Icky Thump, but none of the big singles. Ditto the big Raconteurs and Dead Weather stuff. He played mostly medium to deep cuts and rarely the biggest song off any album. He's playing a bit of everything, covering his entire catalogue, but by no means is this a best-of show. This is not Paul McCartney. What we're seeing with Jack White is an artist who is doing exactly what he wants and luckily it's pretty much exactly what we as his fans want to hear. 
The most fickle of music fans* left the taping with nothing but glowing reviews. Jack was on fire both nights, with his spine-shattering solos on "Ball and a Biscuit" being at their absolute apex, to his completely stripped down "We're Going to Be Friends" at its most precious and his call and response on "I'm Slowly Turning Into You" maybe not at its most raucous (whoo?) but this tour has been a godsend and as it winds to a close, the only complaint after a 75 minute set Saturday and barely over an hour Sunday is that it wasn't enough. And isn't that something special in and of itself? I saw Arcade Fire's festival set and taping last year at the end of their long tour and had more than my fill. Jack won't let that happen. It wasn't near enough.
White started off the taping the same way he started his festival set, with his band strutting on stage as his newest single, "I'm Shakin,**'" played over the PA. At the taping, he had his all-guy band, The Buzzards, play the first half as the the lady Peacocks played the entire festival show and the second half of the taping. While The Buzzards were my favorite of the two at the SXSW show, the lady Peacocks sounded tighter this weekend. They pull off the Nashville country twang and can rock just as hard as the guys and while the guys add a harder, jazzier tinge, there's no matching the chemistry between Jack and Ruby Amanfu. The guys sounded looser and louder, but tight and focused worked better this weekend.
To start both shows, Jack revved the men up into a storm of noise before launching into "Freedom at 21," while the ladies' opening feedback on Saturday fed into The White Stripes' thumper "Hardest Button to Button." Both nights started with singles, but not "the single." The festival crowd was fed three straight songs off the new album, with "Freedom at 21" and "Love Interruption" harmonies with Jack and Ruby at their best when singing into the same mic.
The gentleman got an early highlight of the taping when Jack covered Hank Williams' "You Know That I Know." Jack slowed this one down to a crawl and, for a brief moment, got the talkers near me to shut up for half a second and let him have a moment, as the band grows quiet as he draws out the message in the song's final lines. That quiet restraint was especially impressive from Jack on both nights. As someone who could bowl through a blistering White Stripes or Raconteurs with hardly a break to talk, Jack can really slow it down and pace a set these days. And the way he had the Buzzards leave stage and get the Peacocks set-up and ready to play without letting the music stop was masterful. At the taping, Jack played the title track, "Blunderbuss," softly and sweetly with the Buzzards, who work best when they're free to rock, with drummer Daru Jones perpetually raising one drumstick up high, as if waiting for permission to start swinging it again. The Buzzards did get right back to rocking, with album opener "Missing Pieces," with Jack using the gorgeous Moody sound system to hit all his falsetto notes that occasionally got muddled in the festival speakers.
Jack's banter was pretty sparse both nights, but he had a few note-worthy lines, like "How is everybody in Austin? As if I don't know!" and saying something about how his mama wouldn't let him sing a tune like that before re-starting "Hypocritical Kiss" after messing it up at the taping. It's been marveled all tour about how re-worked every song in Jack's repertoire is with his new bands, and it amazed me that some have even gone through a transformation from March's SXSW show until now. The best is the ultimate swagger Jack has for "Ball and a Biscuit." He extends the intro to over a minute,  over-plays the chords, and lays the words out with a bizarre  no mind to the timing or phrasing the words. He knows the song lives in the solos and he just explodes all through them.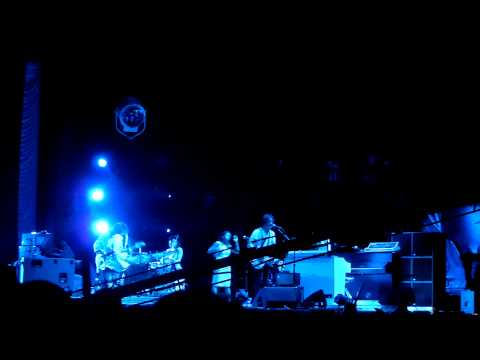 Watch the solos from 2:52 to 4:10 and 5:40 to 6:21 and then pick your jaw up off the floor.
A handful of the songs that made the setlist both nights each deserve their own note:
"We Are Going To Be Friends" was too charming. The ladies played it with him at both shows, and Jack had them all come to the front of the stage at the taping to make it especially intimate. While I typically enjoy Jack at his hardest and fastest, there was no resisting this one either night.
"Hotel Yorba" is a fun little ditty on record, but it's country like I've never loved country before and had everyone throwing up 1,2,3,4 fingers and bouncing along to a fully realized track that's a true gem with either band.
"Dead Leaves and the Dirty Ground" was infinitely better at the festival, as Jack slung his guitar over his back as he went to the piano and would stand back up to strum it and then sit back down to pound the keys and the whole thing was a pure joy to watch as he made it hard on himself to tackle all parts of the song, but boy did he ever. It didn't have nearly the same effect when the guys handled more of the keys and he didn't have Ruby to back him on vocals. None of the Buzzards are stand-out vocalists like Ruby, but this dirty fall classic was still welcome at the taping.
"Top Yourself" was a smart Raconteurs choice lyrics wise, as it's very much in sync with the themes of talking to yourself/your ex even if she's not there to hear it post-breakup. It's a strong song that has some good builds, but I would have rather heard "Steady as She Goes" a second time over this.
"I'm Slowly Turning Into You" has been a live staple for years, with any crowd worth a damn knowing to yell out "whoo!" after the guitar riff. The festival crowd was all over it, whoo-ing it up early on, but at the taping our whole section looked at us like we were crazy when we started up with the whoos. Their loss. I whoo'd it up so hard both nights. I will never get enough of this song.
Notable differences were that the festival crowd got "Two Against One" off the Rome album, "Steady as She Goes" by the Raconteurs and "Seven Nation Army," while the taping got "Cut Like a Buffalo," "Blunderbuss" and the Hank Williams cover. The first night Jack wore a classic white fedora and white t-shirt with a black jacket, black pants and suspenders, with a funky pair of boots. At one point he threw the hat off and then threw his mirror down off the piano at the festival, but made a less violent fashion transition at the taping. He went with a pale blue suit and black shirt at the taping, though the jacket and hat (if he had a hat) were off pretty quickly.
Sometimes at the end of a tour, you get a bit of a victory lap, but I'd be willing to bet that with two dates left, Jack's about ready for this tour to be done. It's been an 8-month international tour where even though one band gets the night off, he's going all-out, commandeering every inch of the stage, constantly switching between electric, acoustic and piano and mostly playing festivals, which he's publicly admitted are a necessary evil. Not to mention the fact that he's playing a b-show at pretty much every stop this tour, so he's doubling up shows, playing every free minute he has.
While there are certainly advantages to seeing the end of this tour, the freshness of seeing the early dates, like that magical SXSW show when we didn't know what to expect, can't be touched. Still, this was another brilliant run by my all-time favorite musician that isn't a Beatle and he proved again and again that he's the best around and will always leave me wanting more, even after back to back nights of near perfection.
SXSW Show: 10/10
ACL Festival Show: 9.9/10
ACL Taping: 9.8/10
*The strangers we spent three and a half hours in line with made the time fly by, as we swapped "I was there" stories. Those people are awesome. And the ten or so music journalists I enjoy in Austin were all there and I'm sure they were respectful great audience members. On the other hand, we found out the drawback of getting the will-call line general admission spots. They put you behind the people who won tickets and showed up five minutes before the taping started and clearly spent every minute leading up to that getting drunk and have zero knowledge of the band. I swear, I've seen people at a bowling alley give more quiet respect to a juke box than the ten people around us gave to Jack White. I tried not to let it bother me, but when the dude in front of you turns around to tell you "Foster scored a TD!" in the middle of a "Ball and a Biscuit" solo, because you commented on him checking his fantasy scores before the band went on, and he's not one of the five most obnoxious talkers near you, oh boy.
**I can't think of another musician whose entrance music is their own song, let alone their newest single. Jack did this both nights in lieu of playing "I'm Shakin'."
Setlist from Festival:
Hardest Button to Button
Freedom at 21
Love Interruption
Weep themselves to sleep
Cannon/John the Revelator
Dead Leaves and the Dirty Ground
Trash Tongue Talker
Top Yourself
Hotel Yorba
Hypocritical Kiss
Screwdriver (abbreviated, performs only one verse)
Blue Blood Blues
I'm Slowly Turning Into You
Steady As She Goes
Two Against One
We Are Going To Be Friends
Ball and Biscuit
Seven Nation Army