@ZackTeibloom I don't crash festivals anymore. Wow, that was weird to admit out loud. Sure, I'll occasionally do what I have to do to get into a Jack White or Tenacious D SXSW badge-only show, but I haven't full-on crashed a festival in over a year. Those days are more or less behind me. I didn't even consider crashing or even look to see if it was doable this year. That doesn't mean that a) I'll stop going to festivals or b) I won't always be looking for a deal. ACL at $200 is a good deal, but the three-day passes sold out before the line-up even came out. Granted, ACL hasn't had a line-up worth skipping in the five years I've been in Austin, but that doesn't mean I'm going to pay $200 several months in advance for a TBD line-up. Especially when you can always buy a ticket at the festival grounds for face, or even slightly less than face. On Friday I had my heart set on seeing Los Campesinos! at 12:30, so I obnoxiously pestered a sick with a cold Caitlin to hurry up so we could get to Zilker in time for me to find a pass and get to the stage at half past noon.
We got lucky with a free parking spot, a few blocks from the fest and started walking in as scalpers offered up $150 single-day passes and $275 full weekend passes. Dream on, dick heads trying to make cash off of goobers who don't know any better. I half-kiddingly said "$175?" to one such dick head after he offered a pass for $275 and didn't even slow down to bargain with him. It was far too sunny and far too early in the day to get any kind of a deal off a scalper. As I continued to walk toward the festival grounds, a guy overheard my half-hearted attempt at buying a ticket and said he had an extra he'd sell at face ($200.) I told him I may come back to him in a bit. We walked the last few minutes to the gates and came to the point where Caitlin had to break off to get her media pass and I had to figure out who had my miracle. I told her I'd meet her at the media entrance in ten minutes. She started to walk away and I turned to the guy who offered me the pass for face and said "Are you going in now?" "Yeah." "I'll give you $180." "That works." I made the exchange and saw Caitlin was only about 15 yards away from me, quickly caught up with her and headed in with enough time to find our friend before Los Campesinos! Not much to it. Now I'll break down exactly how much value I think I got for that $180. I'm going to list a dollar amount for each show. This number represents the number I would say is perfectly fair for the show. Like, if I looked at my bank statement and it said $40 for M83, I'd say, yeah, that wasn't a bargain, but I got my $40 worth. That was fair. I'm going to go chronologically. 
Friday
Los Campesinos – $25
These indie-rock darlings were so worth the $20 plus fees we paid to see them at The Parish in February, that we bought tickets for the next night. This show was just as spot-on. When they started playing, you could mosey up to seven rows back, center stage and an hour later they had thousands of us hooked from "By Your Hand" opener to when Gareth ran into the crowd like he always does for show closer "Sweet Dreams, Sweet Cheeks."  I got a picture of him standing on a speaker, the only good picture I got all weekend, and couldn't think of a better band to kick things off the weekend with.
First Aid Kit – $12
These lovely ladies sing sweet melodies that my girlfriend loves and I like very much. It's one of those bands that any time she suggests we listen to them I'm always OK with it. Without giving the costume away, they have a song that mentions the musician couple we're going to be for Halloween, so that's a great one for us to hear live and this was a perfectly enjoyable sit in the grass. I'd totally pay $12 for this show any night, if Caitlin would pay for her own ticket.
LP: $8
The front-woman looks like a mix between a young Bob Dylan and that tool who fronts MGMT, Caitlin and I decided. She's got some pipes on her. "Into the Wild" is her only great song, but it's a pretty damn good one. Give it a listen and start your whistling. She also pulled off a Beyonce cover well. Even though I was ten feet away from an ex I really didn't want to run into and Joel, the Umphrey's keyboardist, I managed to have an enjoyable time. If I paid any more than $8 to see this, I'd be annoyed, but yeah, that was worth the price of a drink.
A-Trak: $15
We weren't really locked into this show. We stood off to the side so we could get a good spot for Weezer, but we did catch a solid 40 minutes of this masterful DJ's set and treated it more like crowd watching than anything else. Still, if ever my friends want to hang out at a bar with a $15 cover b/c A-Trak's playing, I'm down.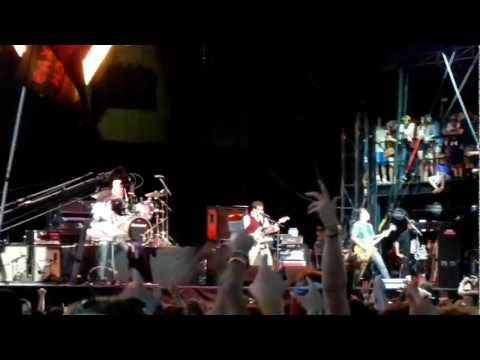 Weezer: $35
There was a two-year stretch where Weezer was by far my favorite band in the entire world. Sure, that was 10 years ago, but Rivers has really come to accept that we want as much Blue album and Pinkerton as possible, so yeah, 17-year-old me was on cloud nine for 75% of this set. "My Name is Jonas" opener, half of the Blue Album, "El Scorcho" and "Hash Pipe" and "Island in the Sun" and a playful Rivers kicking around a soccer ball and jamming with the sign language lady. Sign me up.
M83: $40
I've said it before and I'll say it again. This is the absolute best time to see M83. They're still touring their double LP, their best to date, they've cultivated a perfect live show around it and it is a truly magical experience beginning to end. This was the third time we've seen this show this tour and it's never enough.
Black Keys: $10
We stayed for about five to seven songs that all sounded pretty much the same even though we knew every word. They've played ACL in 2008, 2010, and 2012 and seemingly ever other festival we've been to in between. That makes for at least ten times I've seen them and enough is enough. They don't have it in them to be headliners, I'm sorry, they don't. As I commented to Caitlin, I feel like they're Government mandated rock. I need at least a year off from them. Their inescapable-ness has worn me out on them something fierce. But yeah, that was worth $10 in a field from super far away.
Day one value: $145. Maybe that guy offering the ticket for $150 wasn't that crazy after all.
Saturday
Metric: $30
Emily Haines rules so hard. After playing a fun, uptempo set where she established herself as arguably the best front-woman at the festival ,(Eat a big ole back of dicks, Florence!) this is how she closed out her set that we waited in the rain for.
The Shins: $20
If there's one thing I've learned this festival season, it's that we're destined to see The Shins in the rain and have them exceed expectations. They may always be The Garden State band to you, but they kinda rule more than I like to admit to myself.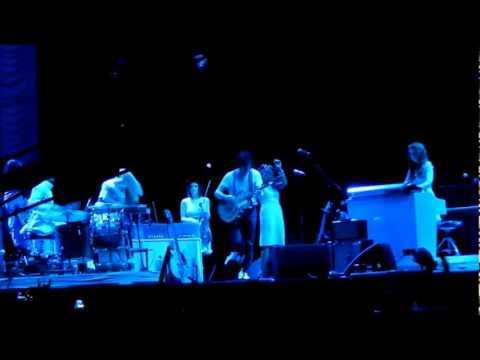 Jack White: $99
I'd pay $99 for a 9.9 all day. I swear, this was a better show than the taping. The crowd was perfect and Jack was especially on. And we got the "Steady as She Goes" and "Seven Nation Army" ender the taping was denied. The best ACL set I've ever seen. I wrote a far longer review here. But yeah, Jack Fucking White.
Day two value: $149
 Sunday
Kimbra: $12
You know her as the girl who sings on Gotye's "Somebody I Used to Know." Caitlin imported her CD she was so excited to have it, so I know most of the songs pretty well. We only caught the last four songs, but they were all the ones we wanted to hear. What we found out was Kimbra has a mean set of pipes on her and has stage presence, but still needs to figure out her "show." It'll come. Glad we caught that.
Freelance Whales: $8
I truly adored their first album. I like one, maybe two songs on the latest one. It's just so damn boring and something is up with the lead singer these days, he seems incapable of singing tough vocal parts with a lot of words. Kinda tough, since that's half their songs. I'm done with these guys until their next album.
Gary Clark Jr. $15
Homeboy wails so hard. This Austin local was perfect to sit back and groove to as he would throw some Hendrix riffs into his mix and melt our already melty faces off (I forgot to put sunblock on my forehead on Friday.) Gary melted what was left of my face, so I had to pick it up, grab a Torchy's Taco and head out. There was  free Jack White taping going on, you know.
Day three value: $35
A $99 Jack White show was worth more than what I would have estimated would be a $20-$25 Iggy Pop Show and $25-$40 RHCP show. Then again, would I rather see my all-time favorite artist at his peak or artists I never truly loved a decade or three past their prime? I sold my wristband for $20 on the way out (I really should have asked  for $40), which brought me down to $160 for the weekend.
If you do the math, I valued the shows I saw at $329, meaning I more than doubled my value, and got the bonus $100 Jack White taping. I feel like I'm at the end of Supermarket Sweep right now, you guys.