@ZackTeibloom I really thought I'd prepared myself for this one. Beyond the standard listening to the Beatles that everyone does growing up, I really went above and beyond to be ready for this moment in my life. I aced an entire three-credit class on The Beatles in college. I collected every Paul solo album I could find on vinyl for a magazine feature I wrote on him. I listened to his most recent live album enough that I knew all of Paul's little live quirks, and even followed recent set lists to the point that I knew exactly what to expect. I started to fear I knew too much. I shouldn't know that the first encore would have pyrotechnics for "Live and Let Die" and that we'd get a second encore that would start with "Yesterday" and wrap up with a "Golden Slumbers-Carry That Weight-The End" medley. I did that over-preparing myself once before a Pixies show and felt like I cheated myself of any spontaneity. But that's the thing about Paul. You simply can't prepare for what it feels like to see and hear Sir Paul (MACCA) McCartney, the greatest living songwriter, and arguably best front-man in the history of rock n' roll, live in the flesh.
It's overwhelming. If you're a screamer, you'll scream. If you're a cryer, you'll cry. I cried. Several times. I figured I'd get emotional once during "Here Today," his tribute to John, but no. I lost it just right out the gate at "Magical Mystery Tour." Within 30 seconds of Paul picking up that odd little bass of his, I couldn't control myself. I keep coming back to the word overwhelming. There's Paul. The guy from your parents' favorite band. Your favorite band. And he's singing everything you'd ever want to hear. And he sounds exactly the same as he always has!
This is how Paul looks now at 70. Aging rockstars can be a scary thing, but Paul's boyish charm will never fade, no matter how wrinkled his face gets. His raised eyebrow and side smile refuse to fade. Watching someone like Mick Jagger move on stage these days can be kinda concernin', but Paul scoots from the front of the stage to the piano with an exuberant bounce in his step. His boyish charm is everlasting. You think of him as a strong bass player and engaging, melodic piano player, but I was blown away with how he wails on the electric guitar. He let it rip on "Let Me Roll It" and kept it going through a stunning vocal-free "Foxy Lady" cover. Whenever Paul moved to the piano, there was an extra buzz in the air, as that could mean we were getting anything from "Hey Jude" to "Live and Let Die" to "Let It Be," and he saved all three for the end of his first set.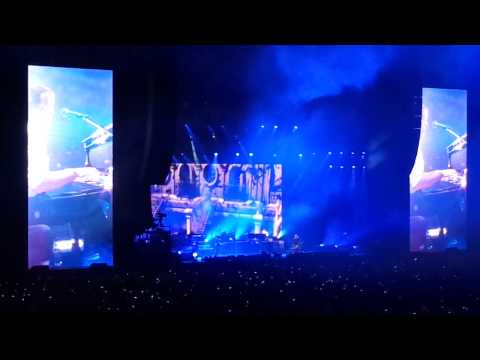 I'd be remiss if I didn't give a special nod to "Live and Let Die." I guess I'm a sucker for pyrotechnics and fireworks, but this was such a spectacle, it easily made standing outside in the cold for four hours worth it. Caitlin grabbed my arm when the fire balls starting shooting off and we kept looking at each other, mouths agape, blown away by it all as the smoke hung in the air for the extended "Hey Jude" sing-a-long that followed. As breathtaking as it was to hear any and every Beatles song he played, The Wings songs held up exceptionally well live. And as much as I loved the pyro of "Live and Let Die," the acoustic guitar strumming halfway through "Band on the Run" was just as powerful. And that's his guitarist playing it. Paul's been touring with the same band for over a decade now and they're spot-on. They let Paul shine, but replicate his songs perfectly and give him a strong, full sound. My only two complaints would be that the harmonies of this band are nowhere near what you'd get from The Beatles and the drummer deciding to do the "Macarena" (Or Macca-rena if you will) was a bit cheeky for my taste, but otherwise they're an incredibly strong touring band.
Paul is such a ham. He's always been the Beatle who truly loved the spotlight the most and he still yearns for it. While his banter ranged from hilarious bragging (as he casually name drops Jimi Hendrix and Eric Clapton), to sweet and heart-wrenching (as he told us to always tell someone you love someone before it's too late before playing "Here Today), my favorite was when he'd just make it clear that he knew exactly how awesome it was to be a Beatle. With just him and an acoustic guitar on stage, he asked how many of us had tried to play "Blackbird." 25,000 people raised their hands. "See? Isn't that cool? And I wrote that!" And then he played it and just melted us. And I typically hate any reference to the city the artist is playing in as a cheap attempt to get us excited, but when Paul ran on stage for an encore with a Texas flag waving high and asked us whether it's pronounced "Hoo-ston" or "Hew-ston" and we all yelled "Hew-ston!" back at him, he still managed to make it charming. Every second he was on stage was just irresistible.
It's easy to dismiss Paul as the less serious of the Beatles, with John being the "Important" one and Paul writing merely "silly little love songs," but I dare anyone to see this show and not fall in love. The perfect moments were too many to recall. The wild guitars on "Helter Skelter," the soft ukelele's on "Something," the thematic 180 from "Maybe I'm Amazed" to "I'm Looking Through You" as you consider Paul's life and loves and how he knew to cheer us back up with "Dance Tonight" after leaving us a puddle of tears after the "Blackbird into "Here Today" combo. How could you not love him? And more importantly, how can you resist falling even more in love with the person you're with. If ever there was a show to be at with the love of your life, this is it. Caitlin and I had a truly magical time and it was made ever so much better by having her by my side to hold her hand or squeeze her gently or just to look at each other with a "Is this really happening?!" face. I still can't believe it was real.
Before the show I tweeted that there was an 80% chance it would be my favorite show of all time and 98% chance I'd write this review as a baseball metaphor since the show as at a baseball stadium. Two songs in, I completely forgot I was in a baseball stadium and comparing this masterful show to baseball feels like it would cheapen it.  And it wasn't just my favorite show, it blew the other show's I've given "10's" to so far out of the water that I regret giving anything else a 10 and will have to give this show it's own "MACCA" rating since it's truly in a class of its own.
Thank you, Paul. I love you.
MACCA
Setlist:
Encore:

Encore 2: